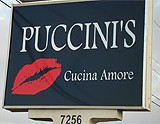 Puccini's
SRQ Reviews
on April 6, 2010
Great composition, artistic presentation, and a romantic décor put the food at this Italian restaurant on center stage!
Even though Italian cuisine is one of the most popular in America, opening an Italian restaurant in Sarasota takes a certain amount of courage.  Perhaps due to this popularity, there is an abundance of Italian restaurants in Sarasota.  So, how does an Italian eatery distinguish itself from all the others?
Aptly named, Puccini's Italian restaurant, with its operatic theme is creating a niche for itself amongst the Italian restaurants of Sarasota.  Having successfully run an Italian restaurant in Philadelphia for 10 years, chef/owner Richard is now bringing his love of food and music to Sarasota.
Upon arrival our first impression was "yet again another Florida strip mall eatery."  However, one step inside and all preconceived thoughts of a strip mall dining disappeared. Ceiling's draped in fabric, opera music playing in the background, small cozy tables, candle lit ambience, an open aired kitchen, and a warm friendly greeting made for a remarkable transformation.  The stage was set.
Puccini's specializes in fresh, made to order dishes.  Therefore, the menu is limited and changes frequently.  For our meals we chose the following:
Sausage and peppers:  Sweet Italian sausage and green peppers $7.00
Well prepared, nicely spiced sausage with crisp colorful green peppers
Mussels in a Tomato Basil Broth: Fresh mussels cooked and served in a light tomato broth $7.00
A nice sized portion of plump, juicy mussels with a flavorful broth that is definitely bread dipping worthy.
Baked Portobello Mushrooms with Parmesan: Baby "bellas" baked and sprinkled with parmesan $5.00
Plump and moist with just the right amount of chess for flavor
Roasted Chicken in Rosemary and Fresh Tomatoes: $18.00
Good portion, moist chicken, tomatoes, string beans, nicely spiced
Fettuccine Puccini: Fettuccine served with shrimp and scallops in  a light herb sauce  $14.00
Fresh, light, tasty, cooked al dente
All meals include a simple, yet flavorful, green salad, a small simple starter, and fresh, crusty bread service.  We found all the food to be flavorful, well presented and apportioned.
Setting itself apart form other Italian restaurants in Sarasota, Puccini's Italian restaurant, something different in Sarasota.
SRQ Reviews, the restaurant guide you need to find the best dining in Sarasota, Florida.
Puccini's is a "BYOB." So if you are thinking about wine with your Italian dinner, plan accordingly.
2881 Clark RoadSarasota, FL 34231