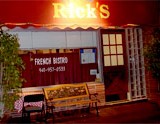 Rick's French Bistro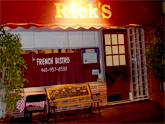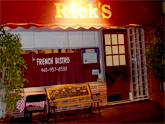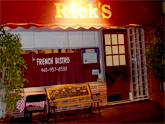 2177 Siesta Drive Sarasota, FL 34239
941-957-0533
http://rickandyou.web.officelive.com
View Photo Gallery
SRQ Reviews
on January 13, 2010
A mini escape to a French countryside bistro on Siesta Drive?
Yes, it is true.  In one of the more unlikely locales, Rick'S French Bistro stands out as an authentic French country bistro right here in Sarasota.  Upon entering Rick'S you are immediately welcomed and escorted to your table.  A small, warm, cozy, and comfortable kind of place you settle in and begin to notice the European authenticity.  Red and white checked table cloths, European styled flatware, small tightly spaced tables, the French centric wine list, and of course the French accent from your host Rick.
A simple menu offering traditional bistro fare; however making a single choice is not easy.  We chose the following:
Poulet Sauce Normande:  Chicken, White Sauce, Onions, Apples, Cream, Mushrooms  $18.50
Chicken was tender, the apples tasted like an apple pie, and the sauce was great for dipping a crusty baguette.
Poisson Sauce Provencale:  Cod, Butter, Tomato, Thyme, Lemon, Peppers  $19.50
Flaky fresh fish, nicely seasoned, with a subtly sweet sauce.
Cote d'Agneau au Thyme: Grilled Lamb Chops with Thyme  $23.00
The lamb was tender, well seasoned and cooked exactly the way it was specified,a good sized portion.
Creme Brulee: Traditional French Egg Custard  $6.50
Smooth, creamy, with a hint of orange; absolutely delicious.
All entrees include a house salad with French vinegrette on the side, rice or Gratin Dauphinois, and vegtables.
There is a limited selection of French wines and imported beers. We chose a Cabernet Sauvignon, Languedoc ($26.95) to accompany our meals.
If simple, casual, very tasty, French bistro dining appeals to you, plan your escape to Rick's French Bistro. The travel time is short and you will not be disappointed.
SRQ Reviews, the restaurant guide you need to find the best dining and new restaurants in Sarasota, Florida.
Because the restaurant is small (only 32 seats) and there is no bar or lounge, we recommend making a reservation.
2177 Siesta DriveSarasota, FL 34239