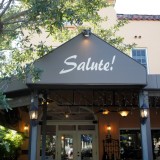 Bevardi's Salute Restaurant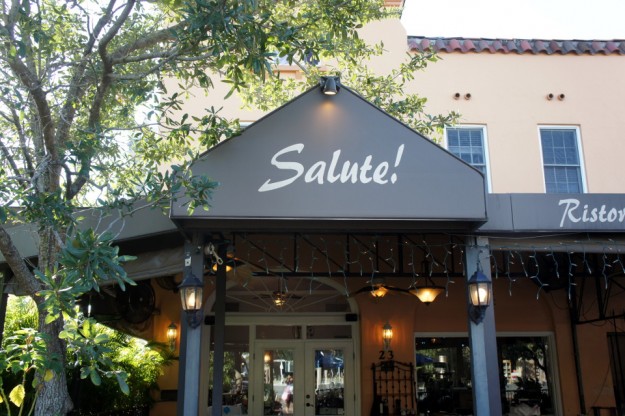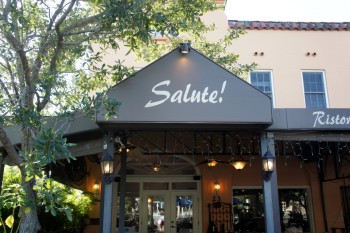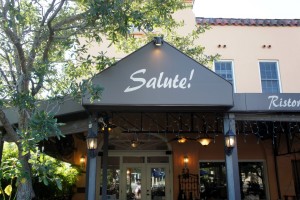 23 North Lemon Avenue Sarasota, FL 34236
941-365-1020
http://www.salutesarasota.com
View Photo Gallery
SRQ Reviews
on December 16, 2010
A new Italian restaurant emerges in downtown Sarasota… (**New name, new owners – will update review shortly)
On the corner of North Lemon Ave and 1st Street, in the space formerly occupied by Crepe Suzette, Sarasota's newest Italian restaurant, Salute!, recently opened.  With significant renovations inside and out, Salute! offers 4 distinct areas for dining: al fresco, a casual bar, the wine room, and main dining room.
The menu at Salute! is varied and extensive; offering bruschetta, appetizers, imported Italian cheeses, cured meats, salads, pasta, veal, chicken, pork, and seafood with additional nightly specials.  Making a choice can pose a challenge.  For our meals we chose the following:
Insalata di Rucola:  Fresh arugula salad, red onions, goat cheese balsamic vinaigrette. $7.95
A large salad, crisp and fresh
Plate of Affettati/Italian Cured Meats and Formaggi/Cheeses:  Your choice of imported cheeses (3) and dry cured meats (3) We choose:  Parmigiano Reggiano – piquant, salty, cow's milk cheese, Gorgonzola Dolce – sweet, runny blue cream, cow's milk cheese, and Taleggio Latte Crudo – silky, paste, hints of grass and herbs, cow's milk cheese.  Soppressata San Daniele – dry cured, seasoned salami of San Daniele del Fruili, Mortadella di Bologna – Pork sausage of Emilia Romagna and Speck del Tirolo – smoked, peppered prosciutto of Austria.  $14.95
A very nice presentation, salty, sweet and tasty, a great way to start a meal.
Special Salad Plate:  Buffalo mozzarella, arugula, tomatoes, prosciutto, and roasted red peppers.  $12.95
Visually pleasing, refreshing and delicious.
Grouper Special:  Local grouper lightly breaded and pan fried, served with roasted potatoes and vegetables.  $24.95
Very good sized portion, fresh fish, nicely seasoned potatoes.
Vitello Saltimbocca:  Veal medallions with prosciutto, sage, mozzarella in a light tomato white wine sauce.  $19.95
A large portion of tender veal, nicely seasoned and pan fried with a subtle touch of sage, very nice.
Cannoli:  Traditional fresh ricotta cheese with chocolate chips and orange essence. $6.00
Nicely plated, sweet and flaky, a wonderful way to end the meal.
We found the wait staff to be informative, attentive, and efficient.
Salute! offers a full bar, beer, wine, and soft drinks to accompany your meal. Additionally, Salute! imports olive oil and wine from its own vineyards in Tuscany; which makes the bread service outstanding.
If you are in the mood for Italian food, but want to try something just a little bit different, Salute! is worthy of consideration.
SRQ Reviews, the restaurant guide you need to find the best dining in Sarasota, Florida.
23 North Lemon AvenueSarasota, FL 34236