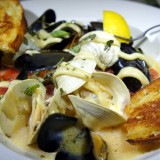 Sandbar Seafood & Spirits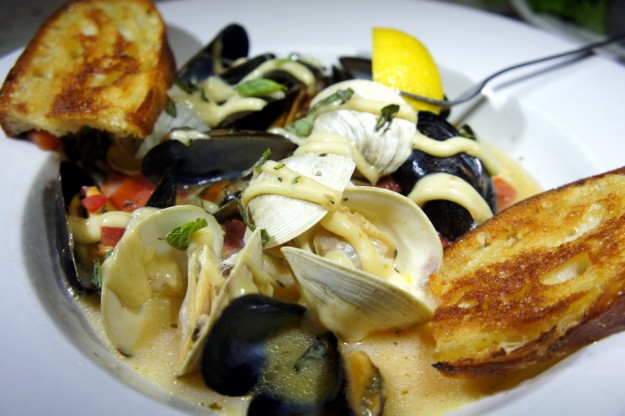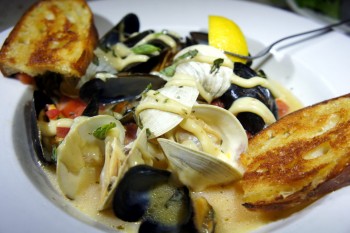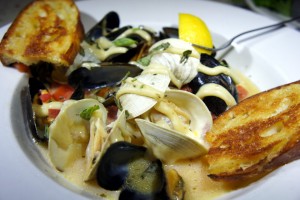 100 Spring Avenue Anna Maria Island, FL 34216
941-778-0444
http://www.sandbar-restaurant.com
View Photo Gallery
SRQ Reviews
on April 11, 2015
The Sandbar Waterfront Restaurant: More than meets the eye…
Located on the north end of Anna Maria Island on a small, easy-to-miss sandy road is The Sandbar Restaurant. Situated amongst some tall trees, the building's view isn't immediately apparent. But make no mistake: this is the quintessential beachfront dining experience.
Yes, there are some tourist trappings, like the gift shop in the front, but one must look beyond the obvious. Completely renovated two years ago, the restaurant is tastefully decorated using reclaimed wood, glass and large windows, which frame the beach and gulf views.
With the view as a backdrop, guests can dine in the informal, yet tastefully decorated dining room, or my favorite: the outdoor deck and/or beach. Since the restaurant doesn't accept reservations, there can be a lengthy wait for a table. However, this delay can be ameliorated by sipping on a tropical cocktail and enjoying the beachside views from the spacious bar area.
The menu is large, offering many of the items one would expect from a beachfront restaurant. However, I think it's fair to say the menu continues to evolve. Once again, looking beyond the obvious, diners will find foodie-friendly dining trends, such as "Farm to Table" and "Gulf to Fork" integrated into the menu.
For our meals we chose the following:
Bottarga Toast:  Shaved bottarga over four toast points.  $6.99

Layers of flavor; melts in your mouth.

Caviar and Bellies:  Three crispy soft-shell crab bellies with Mote Marine sturgeon caviar.  $14.99

Such a great combo: soft, crunchy, sweet and briny. Bet you can't eat just one!

Salmon Tartare:  Diced salmon, capers, onions, crème fraiche and caviar served on crispy salmon skin chips.   $12.99

A burst of cool, creamy freshness with a bit of crunch from the salmon skin chip.

Clamscargot:  Baked Joe's Bay little neck clams with peppers, onions, herbs and cured ham, served with crostini.  $11.99

Such a clever variation of the classic dish — smoky, rich, garlicky and tender. A wonderful sharing plate.

Conch Fritters:  Freshly ground conch tossed with onions and peppers.  $9.99

Another great starter to share. Tasty cocktail sauce had a nice kick of horseradish.

Gamble Creek Salad:  Gamble Creek Farm heirloom tomatoes, pea tendrils and red onion with olive tapenade, dusted focaccia, basil and olive oil.  $9.99

Very fresh, colorful, organic, locally sourced and full of interesting and delicious heirloom tomatoes. Tastes just like summer.

Clams and Mussels:  Steamed Joe's Bay middle neck clams and mussels in a lemon clam broth and finished with fresh herbs and garlic aioli and served with crostini.  $12.99

A shellfish-lover's delight. Fresh and full of flavor. You'll want to soak your bread in the broth — yummy.

Wild Boar and Kraut:  Braised wild boar and organic sauerkraut tossed with dijon mustard sauce and caraway seeds, all garnished with scallions.  $10.99

Best sauerkraut ever. Organic and locally grown; sweet and tangy. The flavors and textures were rich and exotic.

Shrimp and Grits:  Pan-seared gulf shrimp deglazed with ham stock and served over Bradley Store stone-ground grits with cured Tennessee ham and bottarga.  $12.99

A subtly smoky vs. traditional creamy version. Coarse grits with a speckled yellow color. Chopped shrimp in a subtle ham-based broth that was absorbed nicely by the grits. Easily eaten with a spoon.

Wild Boar with Kale and Cannellini Beans:  Wild Boar braised with onion and garlic in ham stock for eight hours with sautéed kale and cannellini beans.  $18.99

Rich and delicious. Get your bread and be ready to mop up every last bit.

Mahi Mahi Tacos:  Lightly seasoned mahi mahi medallion over coleslaw and a black bean and corn salsa served in two soft corn and flour tortillas. Served with Sandbar rice.  $15.99

A fully stuffed taco — fresh and very satisfying.

Stuffed Shrimp:  Five large gulf shrimp baked with a shrimp and crab meat stuffing.  $25.99 (All entrees are served with a fresh island salad or side Caesar, vegetables and your choice of baked potato, fries or Sandbar rice.)

No fillers here! Generously stuffed, very flavorful, rich and satisfying.

Longboat Mahi:  Grilled Mahi topped with two shrimp, two scallops and a lemon butter cream sauce. $28.99

A very simple, minimalist presentation. Scallops had a nice sear. Pronounced lemon flavor.

Swordfish with Lemon Butter and Capers:  $25.95

Another simple presentation. Very fresh with subtle lemon butter and punctuated with capers. Asparagus cooked perfectly. Sauerkraut has great caraway background flavor.

Wild Hog:  Punta Gorda Wild Hog, sautéed Gamble Creek kale and farro salad with rosemary au jus.  $28.99

An unexpected item with an unexpected taste.Very rich and flavorful — true comfort food.

Strawberry Shortcake:  Gamble Creek Farm strawberries served over two homemade scones and topped with vanilla ice cream.  $5.99

Delightfully decadent, colorful, rich and flavorful. Scones provided a tremendous base for the strawberries and cream/ice cream. Big portion; easily shared.
The wait staff is friendly, offering advice on select menu items, and quite professional, given the hectic volume of patrons and items streaming from the kitchen. It would be easy for a table of diners to be overlooked in such a hustle bustle environment, but that was never the case for us.
Although the Sandbar is a bit of a drive from Sarasota, and it initially presents itself as a tourist destination, it's the perfect place to discover — or rediscover — the beauty of beachside dining, especially with the approaching quiet season.
The Sandbar Restaurant: offering more than meets the eye.
SRQ Reviews, the restaurant guide you need to find the best dining in Sarasota, Florida.
At times there can be a wait (especially during "season"). Relax, have a drink at the bar, take a walk on the beach, enjoy your "wait" time.
100 Spring AvenueAnna Maria Island, FL 34216