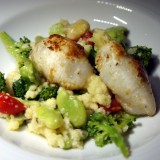 Sardinia
SRQ Reviews
on July 26, 2014
Sardinian specialties stand out at new Sardinia Restaurant…
Sardinia is the second largest island in the Mediterranean Sea. With a mild Mediterranean climate, fresh produce, seafood and wheat are staples of the regional cuisine. Fresh-made pastas and wood-oven-baked breads are constants on many menus throughout the island. So, it was with great interest we followed the build-out of Sardinia Restaurant in Sarasota.
Located at 5770 S. Tamiami Trail, in the former Bologna Café building, Sardinia Restaurant has been open for a little more than six months. With a fresh build-out, a small bar area, a good-sized dining room and a private dining area, the décor is casual, simple and slightly upscale. Although we did not experience any noise issues, the tables are close together, and on a busy night, I can see how that might become a problem.
With a focus on authenticity, Chef Dino Carta has imported a hooded wood fired brick oven, which is used daily to bake breads and to prepare many meat and Sardinian specialties. With an emphasis on freshness, the menu at Sardinia offers a good selection of soups, salads, appetizers, meat and seafood. Even though the menu items have a certain "Italian familiarity," there are slight twists to the ingredients or preparation that give the dishes their Sardinian pedigree.
For our meals, we chose the following:
Rucola, Mozzarella Fresca, Olive, Cetrioli e Pomodori Salad:  Organic arugula, fresh mozzarella, marinated Mediterranean olives, cucumber and tomato.  $8.95 

If this is any indication of commitment to freshness, then mission accomplished. Fresh, fresh  fresh. A great beginning to your meal.

Spinaci Biologici, Noci, Cipolle Caramellate, Caprino e Endivia:  Organic spinach, walnuts, caramelized onion, endive and goat cheese.  $9.95 

Once again, a great example of fresh and organic produce, served simply, with a focus on the natural flavors.

Calamari Ripieni con Ragu' di Fave, Fregola e Olive Marinate:  Stuffed calamari with fava beans, fregola and marinated Mediterranean olives.  $10.95 

A very nice presentation with a slight briny taste and a slightly chewy texture. Very nice.

Pomodoro con Parmigiana di Melanzane al Forno:  Brick-oven-roasted tomato stuffed with eggplant and fresh mozzarella.  $9.95

A definite winner! A unique interpretation of traditional eggplant parm. The sweetness from the tomato melded perfectly with the eggplant and cheese.

Insalada Mista di Stagione con Romana, Pollo Grigliato Pomodori, Cetrioli e Parmigiano:  Mixed greens, romaine, grilled chicken, tomato, cucumbers and shaved parmesan.  $9.95 

Good-sized portion and fresh, crisp ingredients. The chicken is pounded and then grilled — delightful lunch.

Polpo, Finocchi, Rucola e Olio Extravergine d'Oliva:  Sandwich of steamed octopus, fennel, arugula and olive oil. (Sandwich comes with choice of side soup or salad.)  $10.95 

Thinly sliced and tenderly grilled with nice fresh flavors. The arugula added a nice peppery flavor — a beautiful sandwich.

Fettucini ai Fenghi Misti e Ricotta Salata:  Fettuccine with fresh wild mushrooms and dry ricotta.  $17.95 

Fresh pasta cooked "al dente" with subtle flavors of mushroom and cheese throughout.

Salmone Selvatico con Pomodorini, Capperi e Origano:  Wild salmon with cherry tomatoes, capers and oregano.  $22.95 

I had high expectations for this dish, but was somewhat disappointed — the fish was a tad dry and was lacking the flavor I expected.

Spiedino di Gamberoni e Capesante al Forno su Insalata di Fregola:  Skewer of jumbo shrimp and sea scallops over fregola salad.  $27.95 

Although the combination of textures was delightful, we found the dish to be lacking in flavor and overpriced for what was served.
Sardinia Restaurant offers an adequate wine list as well as beer and soft drinks to accompany your meal. The bread service is outstanding!
We found the staff to be very friendly, attentive, efficient and welcoming. It made the dining experience quite enjoyable.
If you are looking for something different from traditional Italian cuisine, Sardinia might be the place for you. All the ingredients are fresh and the specialty Sardinian bread, Pane Carasau, is fresh baked daily. We know because we went into the kitchen to observe the process! The dining is casual and offers familiar food with a Sardinian twist.
SRQ Reviews, the restaurant guide you need to find the best dining in Sarasota, Florida.
Sardinia has the BEST bread service!
5770 S Tamiami TrailSarasota, FL 34231