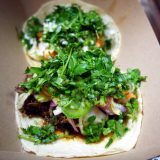 Screaming Goat Taqueria
SRQ Reviews
on October 30, 2018
The Screaming Goat Taqueria…Screaming Good Food!
The Gulf Gate area of Sarasota offers a plethora of bars, restaurants, caterers, and casual eateries. In my mind, Gulf Gate provides an incubator and a proving ground for upstart new restaurants. One relatively new entrant to the locale is Screaming Goat Taqueria; located in a small shop at 6606 Superior Avenue. A perfect fit for the area, Screaming Goat is a fast-casual restaurant with a simple, pleasant, casual decor.
Offering Latin-inspired street food for lunch and dinner, the menu at Screaming Goat changes regularly but generally offers Beef Barbacoa, Traditional Cochinita Pibil, Mesquite Chicken, on occasion Goat, and a varied selection of vegan options. Even though the menu is tightly focused, there are a variety of selections for all to enjoy.The food options include burritos, Arepas, bowls, and of course tacos. There is a wide selection of fresh, pickled, and innovative add-on ingredients to customize your selection. Or you can just choose the suggested items if you are feeling a bit overwhelmed with the choices. In either case, your dining experience will be innovative, colorful, and full of flavor.
For our meals we chose the following:
Taco:  Braised Korean barbecue short ribs, Curtito, cilantro, lime.  $3.95
Fresh corn tortillas, perfect base. Topped with super fresh flavorful ingredients. Overstuffed.
Taco:  Masa dusted cauliflower, cilantro chimichurri, queso fresco, cilantro, lime.  $3.95
An interesting vegetarian option which is full of flavor, overstuffed deliciousness, very filling.
Pork Cochinita Pibil:  Avocado-tomatillo salsa, arugula, pickled red onion, queso fresco.  $3.95
Real comfort food. Pork was soft, tender, stringy.
Beef Barbacoa:  Guajillo-chipotle salsa, cactus paddle-roasted onion, radish.  $3.95
Filled with rich flavors and a kick.
Vegan Chorizo: Scotch bonnet-roasted pineapple salsa, arugula, sweet corn relish, crema. $3.95
Interesting, subtly sweet, subtly spicy flavor. Not a strong chorizo flavor but a good substitute.
Latin Falafel:  Cilantro, chimichurri, arugula, pico de gallo (vegan).  $3.95
Great creation. Interesting flavors, good texture. Surprisingly good in a taco.
Bowl:  Served with citrus rice, refried black beans, choice of protein and toppings.  $9.95
We chose sweet potato, lentil, and quinoa with guacamole (+$1.95) This bowl was a plant-based protein-packed vegan option. The perfect option for someone looking for a more substantial option.
Burritos:  Served with cirrus rice, refried beans, choice of protein and toppings.  $9.95
We chose mesquite chicken, arugula, chimichurri, Vidalia onions, and cilantro. Definitely a 2 handed meal option. Overstuffed, full of strong, interesting flavors. Fresh and satisfying.
The Screaming Goat offers an adequate selection of craft beer, wine, and soft drinks to accompany your meal. The staffs are very friendly, fast, efficient, and very helpful in explaining the menu options and offering suggestions on add-on ingredients. This latter point was important to me because there are so many add-on options. Although the physical footprint of The Screaming Goat Taqueria is small; the food, flavor, and creativity are big, bright, and bold. Give the Screaming Goat a try, you will be pleased you did.
SRQ Reviews, the restaurant guide you need to find the best dining in Sarasota, Florida.
6606 Superior Avenue Sarasota, Florida