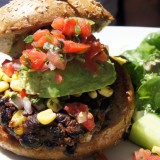 Shore, St Armands Circle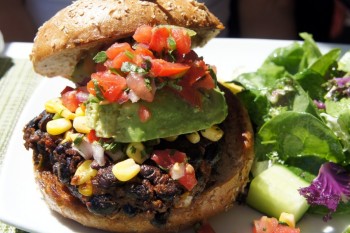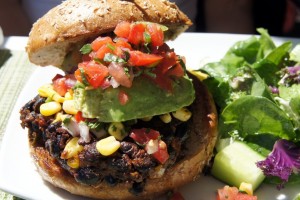 465 John Ringling Boulevard St Armands Circle, FL 34236
941-296-0301
http://dineshore.com
View Photo Gallery
SRQ Reviews
on June 22, 2015
Shore: Continually impressive modern American dining…
Perhaps one of the earliest Sarasota restaurants to enter the modern American cuisine category was Shore. With its open-air setting, retractable roof and well-defined bar space, this St, Armands establishment was a first-of-its-kind restaurant in Sarasota, and it hits the mark for casual, upscale dining. We decided to revisit the restaurant and update our review after a few years of operation. So how is Shore measuring up to our expectations? Two words: it exceeds!
The restaurant seems to be hitting its stride, offering innovative, creative lunch and dinner menus with a focus on locally sourced organic ingredients. A contemporary bar area with specialty cocktails and a casual open-aired ambiance complement the dining experience. In essence, when it comes to modern American dining, Shore offers the whole package.
Although the menus aren't large, there are plenty of options. In fact, making a single choice is often difficult. For our meals we chose the following:
Roasted Beet Salad:  Florida grapefruit, Alabama goat cheese, pistachio and sherry vinaigrette.  $10
A large portion; love the combination of sweet beets, citrus/tart grapefruit and soft, creamy goat cheese, all enhanced by the various textures and lightly dressed — the way we like it.
A Nice Salad:  Local baby lettuces, shaved olive oil-marinated vegetables and herb vinaigrette.  $8
Not your typical house salad; fresh, flavorful and full of color. A great accompaniment to a meal.
Local Kale 'Caesar' Salad:  Arugula, sourdough croutons, vine tomato, avocado and pumpkin seed. Vegan.  $10
A very fresh and interesting blend of flavors and textures; we're big fans of this salad.
Fried Oyster Sliders:  Tabasco tarter and butter lettuce.  $12
Sweet and tasty fresh fried oysters with a slightly kicked-up sauce; delicious.
Tuna Tartare:  Avocado, cucumber, yuzu, tobiko and wonton.  $15
Creamy, rich, luscious texture. Fresh and full of flavor.
Surf 'n' Swine Tacos:  Blackened lobster and shrimp taco and shredded pork taco, cabbage corn slaw and chipotle-avocado cream.  $14
My mouth starts watering just thinking of these tacos; delicious flavor with a kick!
Chicken Salad Sandwich:  Tarragon, red grape, pecan brioche toast and a nice green salad.  $9
This is a big sandwich with nice, crunchy textures; a little too much mayo for my taste.
Kung Pao Chinese Chicken Chopped Salad:  Napa cabbage, citrus, peanut and sesame ginger.  $12
A wonderful mélange of fresh citrus and sesame flavors!
Toasted Turkey and Brie Sandwich:  Granny smith apple, apricot jam, dijon, cranberry bread and green salad.  $11
Delicious fall flavors and textures all in one bite.  Yum!
Fish Tacos:  Mango cilantro salsa, avocado crème fraiche, slaw and fries.  $14
Great combination of refreshing flavors. If you like crispy fries, these are excellent.
Mediterranean Chicken Sandwich:  House roasted pepper, fresh mozzarella, lemony cress and olive basil mayo.  $12
Fully loaded sandwich; moist, juicy and well toasted with great crunch.
Black Bean Burger:  Grain bun, avocado, corn pepper relish, spicy veganese and green salad. Vegan.  $12
Big, flavorful and chock full of different textures.  Doesn't taste healthy — but it is!
Tom's Mother's Meatloaf:  Griddled, peas and carrots, smashed potato and mushroom gravy.  $19
Just like mom used to make; soft and tender with lots of gravy; a classic comfort food if there ever was one.
Key West Shrimp and Scallop:  Lemon risotto, local braised greens, roasted cherry tomato and citrus oil.  $28
Large portion; lemon added a depth of flavor to the creamy risotto; grilled fish was sweet and moist; nice presentation.
Red Snapper:  Local spinach, Arborio rice cake, eggplant caponata and lemon butter.  $31
The vertical presentation was both beautiful and delicious … with each bite you got a mouth full of complementary flavors.
Everything Crusted Tuna:  Thai black rice, ginger bok choy, shitake and miso butter.  $32
An Asian tuna preparation perfectly cooked and presented; full of flavor.
Prime Angus Ribeye:  Wild mushroom butter, bacon Brussels sprouts and cheesy mashed potato.  $36
Not my first choice when choosing an item from the menu. A large tender, juicy ribeye. Well-prepared and plated. For a non-steakhouse restaurant, this was very good.
Chocolate Cake:  $7
Sharing-size portion of moist, dark, rich, delicious chocolate cake. There were four of us sharing; half liked that the cake was cold; the other half would have preferred a warm slice. A perfect example of how you cannot please all the people all the time!  
Shore offers some creative cocktails, such as The Shore cocktail: Hendricks's gin, St. Germain, cucumber, mint. Priced at $10, it's just perfect for the summer. Please note, there's no bread service with the meals.
We found the staff at Shore to be well trained, knowledgeable and enjoy what they are doing. If you are looking for a stylish dining spot, or perhaps a modern open-air space where the quality of food is front and center, look no further. Shore is your place.
SRQ Reviews, the restaurant guide you need to find the best dining in Sarasota, Florida.
On good weather days, just before sunset, they open the retractable roof. Very delightful to sit there with the beautiful colors of sunset and then the stars above.
465 John Ringling BoulevardSt Armands Circle, FL 34236