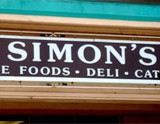 Simon's Coffee House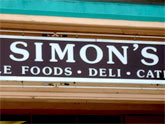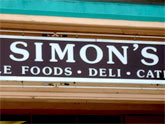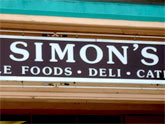 5900 South Tamiami Trail Sarasota, FL 34231
941-926-7151
http://www.simonstogo.com/
View Photo Gallery
SRQ Reviews
on November 13, 2009
A simply focused whole foods menu results in simply delicious food!
On the South Trail tucked away in a Sarasota strip mall, the unassuming Simon's Coffee House is bustling with lunchtime activity.  Names being added to the wait list, waitresses moving about with fresh food, multiple rooms and outdoor dining all filled with various sized groups talking and enjoying their food.
Rather than wait for an indoor table, we chose to have our lunch outside.  Even though outdoor dining only offers a view of the parking lot accompanied by the sound of traffic from Rt. 41, it was not a deterrent to our enjoyment of the meal.
At Simon's the focus is on serving healthy high quality food and drinks.  A limited menu (soups, sandwiches, and salads) of simply prepared food with high quality ingredients and freshly prepared daily specials provides the diner with a choice which is interesting, healthy, and not overwhelming.
We chose the following:
Chicken Salad:  chicken breast, celery, apples, walnuts, grapes, mayo, on our House salad.  $8.75.
A sweet and crunchy chicken salad served on a bed of crisp greens and accompanied with an outstanding piece of multi-grain bread; truly delicious.
Balboa Panini Special:  rosemary ham, asparagus, tomato, mozzarella cheese, salad greens.  With choice of salad or soup.  $9.95
Toasty, crunchy bread with perfectly matched ingredients: ham and asparagus, cheese and tomato served with the right amount of "melt".
Simon's offers a broad selection of drinks (Health drinks, Smoothies and shakes, teas, juices, soda, lemonade, beer and wine) to accompany your meal.  We choose the Arnold Palmer $4.50 and iced herbal tea $1.95.
Although our waitress was friendly, courteous and prompt, we were not offered any refills on our tea (which we thought was a bit odd) and at times we felt slightly rushed.
If you are looking for a healthy, slightly different alternative to the everyday lunch or breakfast, then Simon's Coffee House is the place for you.
SRQ Reviews, the restaurant guide you need to find the best dining and new restaurants in Sarasota, Florida.
Simon's offers a raw cuisine with the freshest produce not heated above 110 degrees to keep all the natural enzymes alive. Do not have time to wait? All of the menu items are available for "take-out."
5900 South Tamiami TrailSarasota, FL 34231