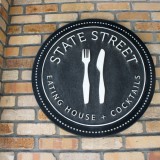 State Street Eating House and Cocktails
SRQ Reviews
on April 6, 2012
Urban Chic Meets Classic Comfort with a Twist!

Understated on the outside, simple upscale décor on the inside, the new State Street Eating House + Cocktails is now serving lunch, afternoon snacks, and dinner, Tuesday through Saturday from 11:30am-11:30pm.  Occupying the former location of the Old Heidelberg Pastry Shop, the transformation from a working bakery to urban chic eating house is amazing.  Utilizing the high ceilings, exposed brick, rafters, duct work, glass, and wood, the design team created a space which is modern, minimalist, urban, yet warm and inviting; an excellent backdrop for the food and cocktails.
As the name implies, the focus at State Street is balanced between food and cocktails.  There is a large stylish bar with mixologists ready to blend classic cocktails, pour a glass of wine or beer.  The setting is reminiscent of bygone supper clubs with a modern day twist and style.  The menu shares a similar concept offering American classic comfort food with a modern day gourmet twist.
For our meals we chose the following:
Chopped Butter Lettuce Salad:  With American blue cheese, bacon lardon, fresh corn, avocado, tomato, toasted walnut and verjus-honey vinaigrette.  $10.00
A good sized portion, very nice presentation, fresh and flavorful.
Grilled Fresh Sardines:  Starter with chilled baby arugula, grilled lemon and olive oil.  $9.75
Very nice presentation, fresh arugula, however, the sardines were too salty.
House Jarred Tuna Salad:  "Open faced" with melted cheddar and smoked paprika on thick cut English muffin bread.  $9.75
Well made tuna salad, filled with onions and light cheese topping. Good portion size.
Roasted Red, Yellow and Candy Stripe Beet Salad:  With arugula, avocado, pickled blueberries, sliced almonds, cilantro, lemongrass vinaigrette.  $1050 (Add Gulf Shrimp, $4.75)
Fresh, good combination of flavors and textures. The shrimp was grilled and tasty.
Pan Seared Wild Salmon:  With Hashed gold potato, shallot, baby arugula, and grilled lemon.  $19.00
Nicely plated , moist fresh salmon, excellent  flavor.
Roasted Hog Fish:  With thyme, preserved lemon, kale and wild rice.  $23.00
Nice presentation served over wild rice and kale in a skillet; great combination of taste and texture.
Slow Roasted Whole Chicken:  "For two", stuffed with oranges and rosemary.  $28.00
A whole roasted chicken, served with gravy, smells like "home", tasted even better and no clean up!
Brussels Sprouts:  Side order, roasted in duck fat.  $6.00
Tender and delicious!  Best Brussels sprouts ever!
French Style Whipped Idaho Potato:  Side order.  $4.50
A small sized portion, but smooth as silk.
Braised Kale with Sea Salt and Cracked Pepper:  Side order.  $5.50
If you like kale, you will enjoy this.
Ice Cream Sandwich: Homemade oatmeal cookie with rum raisin ice cream.  $6.50
Thin, crisp cookies surrounding rich ice cream. Absolutely delicious!
As stated earlier, the State Street Eating House offers a full bar service, beer, wine, and soft drinks to accompany your meal.  We found the wait staff to be friendly, knowledgeable, and efficient but at times trying too hard to be "hip".  Although this was not an issue for us it was noticeable and might be problematic for others.
The State Street Eating House + Cocktails has refined and updated the supper club concept.  Serving high quality, modern day comfort foods with classic cocktails, in a stylish urban chic setting, is the perfect recipe for a downtown restaurant. State Street Eating House + Cocktails is off to a great start.
SRQ Reviews, the restaurant guide you need to find the best dining in Sarasota, Florida.
Have a party of 8-14? Reserve the private room…you can even plan your own special menu.
1553 State StreetSarasota, FL 34236