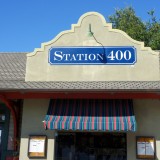 Station 400, The Rosemary District
SRQ Reviews
on July 19, 2010
Yesteryear charm with today's food!
Picture a 1850's styled train station painstakingly disassembled, moved, and restored in Sarasota's Rosemary district.  An interesting venue for a restaurant!  Charming, colorful, warm and inviting, that is Station 400.
When we first arrived at Station 400, we were greeted with a friendly smile and promptly seated.  We particularly liked the variety of seating options, and choose to sit in the small room just adjacent to the large outdoor area. Bright and cheerful, we studied the menu and were impressed with the offerings.
We chose the following:
Curry Chicken Wrap:  Green apple, arugula, toasted almonds, melted brie  $9.00
Mild in spice, but full of flavor…this could become a "fave."
Cuban Press Sandwich:  Slow roasted pork, ham, swiss, grain mustard, pickle  $9.25
Warm, sweet and gooey; just the way I like it!
All sandwiches are served with a choice of parmesan fries, potato salad, orzo pasta salad or tomato cucumber salad.  We chose the parmesan fries which were crispy and delicious.  It should be noted Station 400 is committed to sourcing the finest in local ingredients, and it shows in the flavors and colors of the food.
If you are looking for a new breakfast or lunch spot with a touch of yesteryear that has both indoor and outdoor dining, try Station 400.  You will not be disappointed.
SRQ Reviews, the restaurant guide you need to find the best dining in Sarasota, Florida.
400 North Lemon AvenueSarasota, FL 34236