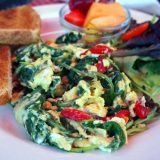 Sunnyside Cafe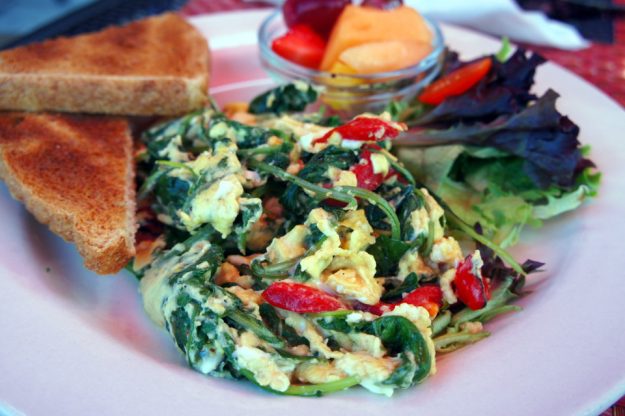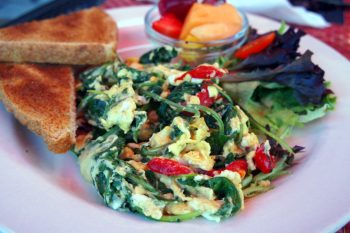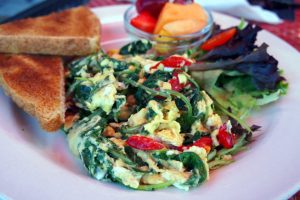 4900 N Tamiami Trail Sarasota, Florida 34234
941-359-9500
http://sunnysidecafesrq.com
View Photo Gallery
SRQ Reviews
on December 12, 2017
If you are interested in doing some culinary exploration outside of downtown Sarasota, consider the North Trail; in particular, the Sunnyside Cafe. Located at 4900 North Tamiami, the Sunnyside Cafe building appears to be the breakfast room for a local roadside motel. Set slightly back from the road, with parking available, the restaurant opens at 7:00am daily.
Although the outward appearance is simple in style and decor, there is an intangible aura of quality. Offering a wide selection of breakfast and lunch items, one begins to understand this is not a typical breakfast or lunch place.
For our meals we chose the following:
The Sunnyside Scramble Special:  2 farm fresh eggs scrambled with kale and roasted red peppers. Served with side of toast, and your choice of potato pancake or seasonal fruit medley.  $7.95
The kale and red pepper were firm and flavorful, a perfectly delicious addition to the eggs.
Frijoles Salsa Eggs Benedict :  Two poached eggs served with crispy bacon topped with black beans tomato relish over a Mexican style toast. Served with side of toast, and your choice of potato pancake or seasonal fruit medley.  $10.95
Fluffy piece of bread to soak up the poached egg and sauce. A bit spicy, but in no way overpowering. Great flavor. Crispy bacon, just the way it should be!
The Sunnyside Eggs Benedict:  Two poached eggs served with our home cured salmon over a toasted English muffin and served with Hollandaise sauce. Served with side of toast, and your choice of potato pancake or seasonal fruit medley.  $10.95
Perfectly poached…runny but not overly so…true hollandaise, house cured salmon slightly salty not too smoky. Pancake was an added plus, authentic. A great rendition.
The Brave One Omelette:  Crispy bacon, homemade sausage, jalapeño cheddar cheese, green peppers, onions and a side of salsa. Served with side of toast, and your choice of potato pancake or seasonal fruit medley.  $9.95
Nice spicy kick from the sausage and jalapenos. Jam packed with meat, but wasn't greasy. Eggs were cooked perfectly, moist yet firm.
The Sunnyside Cheeseburger:  100% ground beef burger grilled, served with arugula, tomato, red onion rings, crispy bacon, melted gorgonzola and Dijon mustard aioli. Served with French fries or sweet potato fries.  $9.95
A fist full of flavors. Very juicy. Charred on the outside, moist and juicy on the inside. Grilled to perfection. Briny, peppery, creamy. A great burger at a reasonable price!
Grilled Vegetable Platter:  Eggplant, zucchini, asparagus, artichokes, red bell peppers, mushrooms, and tomatoes.  $9.95
A generous portion which is plenty for a meal or for sharing with a friend. All of the veggies were grilled and seasoned perfectly… just the perfect amount of salt, pepper, garlic and crispness.
Sunnyside Cafe offers an adequate selection of soft drinks, imported beers and wine to accompany your meal. The wait staffs are very friendly, quick, and efficient.
Quality food, pleasant service, reasonable prices, and an atypical breakfast or lunch dining experience make Sunnyside Cafe a standout. The location on the North Trail add to the cafe's mystique and make it worthy of a culinary exploration. On your next trip to the SRQ Airport, make some time to stop into the Sunnyside Cafe for breakfast or lunch. On second thought, why wait?
SRQ Reviews, the restaurant guide you need to find the best dining in Sarasota, Florida.
In the past, during season, The Sunnyside Cafe offered Hungarian/Eastern European inspired dinners on Fri nights. Now, the owners are offering dinner at their new restaurant Tokaj which is located in the Gulf Gate area.
4900 N Tamiami TrailSarasota, Florida 34234