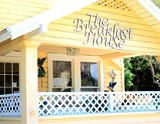 The Breakfast House
SRQ Reviews
on August 12, 2010
A "Key-West like" feel on Fruitville Road in downtown Sarasota!
Perhaps it is the tropical colors, the "Old Florida" bungalow, the whimsical décor, or the outside seating behind the building, but whatever it is, you get the feel of the islands.  Simple, colorful, uplifting and relaxed, The Breakfast House serves breakfast and lunch in an unusual downtown location.  But it works!
On our first visit to The Breakfast House, we were impressed with the décor and looked forward to a relaxed breakfast with friends.  We were not disappointed.  We were cheerfully greeted and quickly seated at the "orange" table.  With coffee in hand we examined the menu and choose the following:
Traditional Eggs Benedict:  2 poached eggs on a grilled English muffin, homemade Hollandaise sauce and house potatoes $8.95
Perfectly poached eggs, sweet hollandaise sauce, with a thick slice of Canadian bacon.
Banana Nut Pancakes:  3 fluffy pancakes, sliced bananas and pecans $6.50
Light and fluffy, sweet, and filling, a pancake lover would not be disappointed.
On the Healthy Side:  A 3 egg white omelet, spinach, tomatoes, onions, Monterey Jack cheese, with choice of potatoes, grits or biscuit $7.95
Light and fluffy, very satisfying.
The wait staff is very pleasant, attentive and friendly; just the right disposition for an early morning breakfast.
Quality food, friendly staff, colorful whimsical décor, a downtown location, and need I say more? The Breakfast House, downtown Sarasota's tropical escape for breakfast or lunch.
SRQ Reviews, the restaurant guide you need to find the best dining in Sarasota, Florida.
Want to enjoy the weather while munching on your breakfast or lunch? Try the backyard garden seating!
1817 Fruitville RoadSarasota, FL 34236