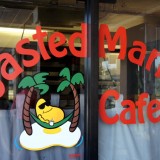 Toasted Mango Cafe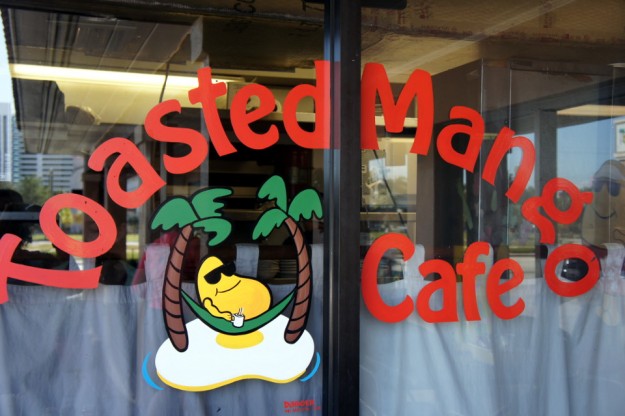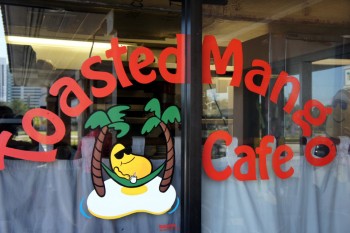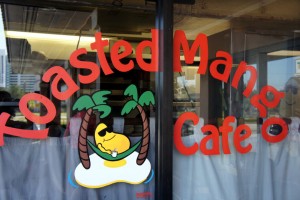 430 North Tamiami Trail Sarasota, FL 34236
941-388-7728
http://www.toastedmangocafe.com
View Photo Gallery
SRQ Reviews
on September 28, 2012
Service with a smile at The Toasted Mango Cafe…
On my first visit to The Toasted Mango Café, I was quite impressed with the quality of the service.  Upon our arrival, we were warmly greeted, seated promptly and given time to peruse the menu.  Our orders were taken and before we were ready for a refill on our drinks, the food was on the table; fast and efficient indeed, but not in a harried way.  In fact, just the opposite — there was no sense of rush.  The staff encouraged us to linger and even asked our names and if we were new to the restaurant.  How is that for a personal touch?
The Toasted Mango Café offers breakfast and lunch daily from 7:00 a.m. to 3:00 p.m.  As one would expect, the menu offers a wide range of options and some interesting twists on old-time favorites and daily specials.  Simple yet creative, choosing just one item from the menu may pose a challenge.
For our meals we chose the following:
The Debbie Sandwich:  House roasted turkey, jack cheese, cole slaw and thousand island dressing, grilled on marble rye bread.  All sandwiches come with your choice of one: french fries, three-bean mango salad, homemade potato chips, cole slaw, seasonal fresh fruit or cottage cheese.  I chose the three-bean mango salad.  $8.99
A delicious, luscious twist on the traditional Reuben. The three-bean mango salad was a great blend of sweet and sour flavors.
The Toasted Mango Blackened Chicken Salad:  Tender blackened chicken served on top of romaine with fresh mango, avocado, cilantro, crumbled bleu cheese, cucumber and tomato, served with citrus vinaigrette dressing on the side.  $10.99
Great presentation; very fresh ingredients in a good-sized portion.  Very tasty.
Farmhouse Tossed Salad:  A blend of mixed greens, shredded carrots, diced tomato, red onion, crunchy bacon and cheddar cheese, all topped with two fried eggs done over medium.  Dijon vinaigrette and sliced baguette served on the side.  $10.99
Unexpectedly delicious!  Fresh and flavorful, the egg yolks added a very nice richness.
Southwestern Veggie Chili:  A delicious combination of fresh garden vegetables, beans, tomato and sweet corn.  Cup $4.50, Bowl $5.50, Add cheese and onion $.50
Slightly spicy, the crisp, fresh veggies make this a delightful alternative to traditional chili.
Breakfast Banana Split:  Creamy yogurt with fresh strawberries, blueberries and mango served on top of a fresh sliced banana and finished with crunchy granola crumbles.  Served with your choice of toast.  $7.99
Incredible to look at!  Incredible to eat!  Healthy never looked or tasted this good!
The Toasted Mango offers a good selection of beer, wine and soft drinks to accompany your meal.  As previously mentioned, the service staff are very friendly, cheerful, helpful, fast and efficient.  We visited on a number of occasions and found the service to be consistently delightful.
Last week I wrote about the importance of having a portfolio of "go-to" spots for breakfast and lunch.  Guess which new restaurant just got added to my "go-to" portfolio?  The Toasted Mango, of course.
SRQ Reviews, the restaurant guide you need to find the best dining in Sarasota, Florida.
430 North Tamiami TrailSarasota, FL 34236