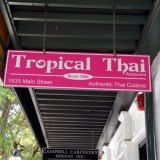 Tropical Thai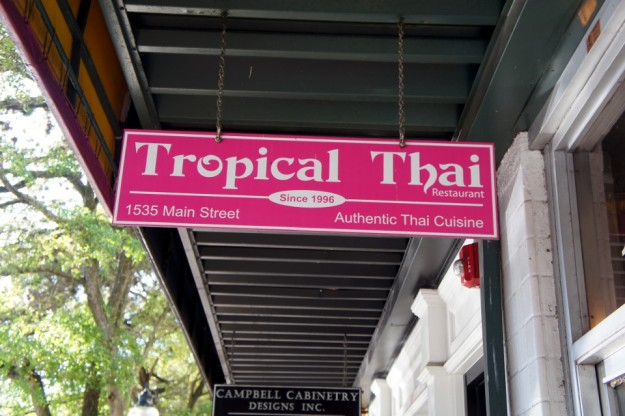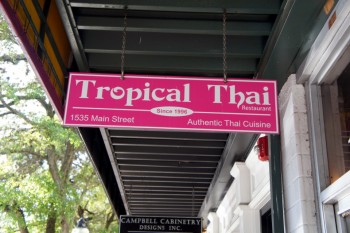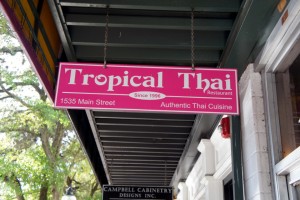 1535 Main Street Sarasota, FL 34236
941-364-5775
http://www.tropicalthaiofsarasota.com
View Photo Gallery
SRQ Reviews
on January 3, 2009
Since our review, Tropical Thai has moved to a different location.
Choices…Choices…Choices… and a nice setting from which to choose!
Upon entering the Tropical Thai Restaurant you immediately notice the dark wood paneling, subdued lighting and the subtle elegant ambience. Once seated you further notice the glass topped carved wooden tables, fresh roses on all the tables, and the small oil tea lights adding to the ambience.
Upon presentation, without the slightest glance, you know the menu is extensive. Appetizers, Soups, Salads, Noodles, Curries, Tropical Thai Specialties, Fried rice, Vegetarian, Macrobiotic Foods, and Sushi. This is a great place to go with a group of people and share an assortment of dishes. However tonight I was dining alone!
Since I was only going to have one dish, I decided it had to be one of the restaurant's specialties. I choose the Two Friends Panang ($16.95); a combination of shrimp and chicken with panang curry in a bed of steamed mixed vegetables. Panang curry is a Thai curry with ground peanuts, zucchini, bell peppers, and coconut milk. Although the dish was flagged as hot, I found the taste to be sweet and mild. There was very little "heat" in this dish. Since the chef will adjust spice upon request, the next time I will ask for more spice which should be a good contrast to the sweetness of the coconut milk. There is a small selection of beer and wine but enough to suffice all tastes.
SRQ Reviews, the restaurant guide you need to find the best dining in Sarasota, Florida.
1535 Main StreetSarasota, FL 34236