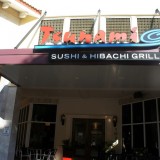 Tsumani Sushi and Hibachi Grill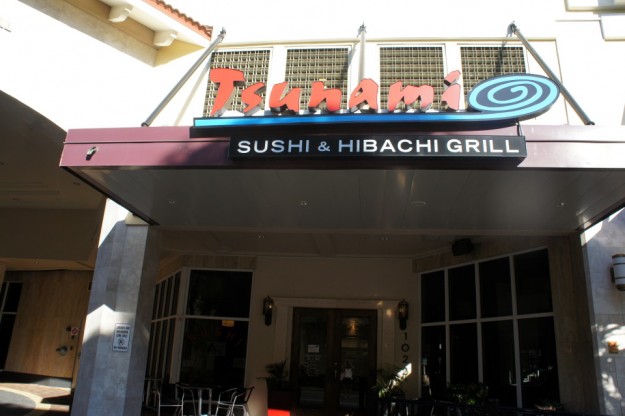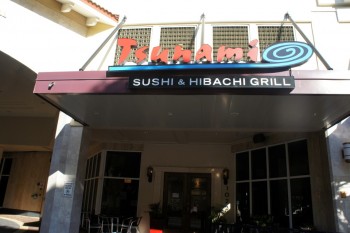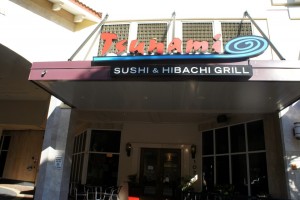 102 Central Avenue Sarasota, FL 34236
941-366-1288
http://www.tsunamisarasota.com
View Photo Gallery
SRQ Reviews
on April 1, 2012
Tsunami has new owners. We will be doing a new review.
Quiet Quality from Tsunami Sushi & Hibachi Grill

Just one block north of Five Points, across from the Selby Library, tucked in around the corner from Starbuck's is a quiet, understated, Japanese restaurant named Tsunami.  Opened less than 6 months ago, the décor is dark, rich, and casually elegant with a well sized sushi bar and comfortable dining room.
The menu is a tsunami of options ranging from sushi, sashimi, traditional rolls, hand rolls, special rolls, hibachi specials, traditional entrees, appetizers, soups, and salads.  There are daily lunch specials including Bento Box specials.
For our meals we chose the following:
Avocado Salad:  Avocado and garden mix green with ginger dressing.  $4.95
A nice, fresh combination of vegetables, ginger dressing was thick but not over powering, very tasty.
Seaweed Salad:  $4.95
A large sized portion, deep green and crunchy.
Every Green Roll:  Avocado, cucumber, asparagus.  $4.95
Vegetarian roll, crunchy and creamy
Yellowtail Roll:  $5.50
Fresh with a soft texture
Spicy Tuna Roll:  Spicy tuna with crunchy.  $5.95
A fresh vibrant flavor, not too spicy
Fresh Salmon Sushi:  $4.95
A delicate taste and texture
Tuna (Maguro) Sushi:  $5.50
A classic sushi, rich and flavorful
Smoked Salmon Sushi:  $5.50
A subtle smoky flavor
Shrimp (Ebi) Sushi:  $3.50
A simple sushi; great for people new to sushi.
Octopus (Tako) Sushi:  $4.95
Great chewy texture.
Scallop (Hotate) Sushi:  $5.50
Smooth subtle taste and texture.
Squid (Ika) Sushi:  $4.50
Another chewy sushi, great texture and color.
Chicken and Scallop Hibachi:  Served with soup, salad, vegetable and fried rice.  $18.95
A large sized portion, miso soup was a bit too salty, salad fresh and simple with a subtle ginger dressing, nice sized pieces of grilled, moist chicken and scallops, ample rice and veggies, a hearty meal
Salmon Teriyaki:  Grilled salmon served with vegetables, traditional teriyaki sauce and white rice.  All entrees served with soup and salad.  $16.95
Miso soup was a bit too salty, salad fresh and simple, nice presentation of fresh, moist, fish, veggies, and rice; once again a large portion. 
Tsunami offers a full bar service, beer, wine, sake and soft drinks to accompany your meal.  Happy Hour is available daily from 4:00-7:00pm with beer, sake, and house wine priced at $1.95.  The wait staff is very fast, friendly, efficient, and helpful offering suggestions and descriptions of various specials on the menu.
Fresh, flavorful food, served in a non-traditional Japanese setting, with generous portions, and reasonable prices, Tsunami Sushi & Hibachi Grill is a welcomed addition to downtown Sarasota dining.
SRQ Reviews, the restaurant guide you need to find the best dining in Sarasota, Florida.
Thursday is Ladies Day, all sushi half priced.
102 Central AvenueSarasota, FL 34236