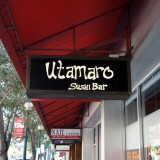 Utamaro Sushi
SRQ Reviews
on December 26, 2009
An authentic sushi restaurant located on upper Main Street…
Upon entering Utamaro you know the emphasis is on the sushi.  A small, almost non-existent waiting area, a few tables off to the left, a row of tables straight in front, and a large sushi bar comprise the room.  With its dark colored walls, black granite table tops and sushi bar, the restaurant projects a Japanese style of "less is more." Well done.
With 2-3 dozen specialty rolls and a large selection of fish, making a choice is no easy matter.  However we had a party of 5, so ordering a large platter solved our dilemma.
Our meal consisted of the following:
Sushi:   (2 pieces)
Yellow Tail (Hamachi)  $5.95
Soft, smooth, and fresh.
Octopus (Tako)  $5.75
Somewhat tougher than usual.
Squid (Ika)  $5.75
Very fresh, chewy and slightly sweet, very nice preparation.
Shrimp (Ebi)  $5.00
Cool and sweet with a slight snap to the bite.
Specialty Rolls: (8 pieces; **=5pieces)
California Roll:  Snow crab, avocado, cucumber wrapped with rice and sesame seeds.  $6.95
Cool and creamy with the sesame seeds providing a little pop.
Spicy Tuna Roll:  Spicy tuna and cucumber wrapped with rice and sesame seeds.  $6.95
Fresh, not too spicy, always a favorite.
Mexican Roll:  (Fully cooked) shrimp tempura and cucumber wrapped in rice and sesame seeds.  $6.75
Cool and crunchy, a nice mix of texture.
Friend Roll:  Tuna, salmon, crispy tempura chips wrapped with rice and sesame seeds.  $7.95
Once again, a nice mix of flavor and texture all in one roll.
Love Roll:  Salmon, avocado, shrimp wrapped with rice and sweet tobiko.  $7.95
Sweet and creamy.
Volcano Roll**:   Crabstick, avocado, cucumber topped with warm crab mixture and kimikara sauce.  $7.75
A very visual presentation, warm with a nice mix of textures.
Rainbow Roll:  Crabstick, avocado, cucumber, wrapped with tuna, salmon, yellowtail, and avocado.  $11.50
A very nice visual presentation with a great taste as well!
Mojito Roll:  Spicy tuna roll wrapped in yellowtail, drizzled with a sweet miso sauce topped with ribbons of Japanese Shiso mint. (8 pieces)   $9.95
Sweet, spicy, fresh, crunchy.
Gyoza (4 pieces):  Pan-fried dumplings.  $4.50
Seared on the outside, tender and flavorful on the inside.
Yakitori:  Two sticks of gourmet Japanese BBQ chicken.  $4.50
Very flavorful and tender.
Spinach Oshitashi:  Cold spinach salad served with a savory sesame dressing.  $4.95
I wasn't sure what to expect, it tasted like cold sauteed spinach with sesame dressing. I liked it.
Vegetable Tempura:  6 pieces of delicately fried vegetables.  $6.50
Big pieces of veggies, light tempura, vegetables were still crisp!
There is a good selection of Japanese beer, sake, wine, and domestic beer to accompany your meal. We choose hot sake and the Sapporo beer for our meal. Even though there was some wait (typical when ordering sushi) service was friendly, authentically Japanese, and efficient.
If you are looking for a different dining experience perhaps with a Japanese influence, then try Utamaro; sushi served in a casual, authentic atmosphere.
SRQ Reviews, the restaurant guide you need to find the best dining and new restaurants in Sarasota, Florida.
Utamaro offers an early bird special for $9.99 which includes an entrée, soup or salad, and rice. There are limited, but common, sushi selections included on this menu. A great meal option before going across the street to the Hollywood 20!
1900 Main StreetSarasota, FL 34236