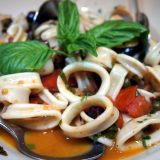 Valentino's Pizzeria and Trattoria
SRQ Reviews
on October 5, 2017
New Jersey Italian…Pizza, Pasta, and more…
New Jersey pizza places, especially northern Jersey locales, have a certain style which sets them apart from just about any other region of the country. If you grew up in New Jersey, or recently visited one of these establishments, you know exactly what I mean. It is uniquely New Jersey.
Valentino Pizza & Trattoria hails itself as a New Jersey styled pizzeria. The New Jersey roots are quite apparent. A casually styled eatery with a bustling take-out and dine-in business, the focus is on serving large portions of quality food at reasonable prices. In other words, family friendly dining.
Open daily, Valentino's menu offers a range of options with pizza taking center stage. However, one characteristic of New Jersey pizzerias is the breadth and quality of non-pizza options. Valentino's follows suit. For our meals, we chose the following:
Escarole and Bean Soup:  $6.50
Rich, chuck full of beans, sausage, escarole. Parmesan is a delicious background flavor. Comfort food. Very satisfying.
Stuffed Mushrooms:  Homemade breadcrumbs, spinach, mozzarella stuffing, marsala sauce.  $9.50
A great appetizer for mushroom lovers…packed with deep and earthy flavors.
Jersey Platter:  Broccoli rabe, long hot peppers, sausage and thin fried potatoes.  $16.99
The perfect platter for sharing! Sausage had a well balance amount of seasoning with just the right amount of fennel. Nice spicy kick from the peppers. New Jersey cuisine on a platter!
Carmelia's Calamari:  Sauteed with olives, capers, fresh tomato, hint of hot pepper and onion.  $12.99
Another NJ cuisine classic. Light and crispy with just the right amount of spice.
Mussels "Rocco" Style:  Simmered in a light garlicky red sauce.  $12.50
Good size portion. We ordered the sweet and hot red sauce, which added flavor. Another NJ classic.
Side Salad:  Lettuce, cucumber, carrot, black olive and onion.  $6.50
Fresh, perfect size/price for the start of your meal.
Toni Salad:  Pepperoni, salami, ham, provolone, fresh mozzarella, red onion, cucumber, black olives, roasted red peppers.  $8.50/$11.99
A chopped salad, everything fresh and crisp. Very filling, so be forewarned.
Visaggio Pizza:  Pepperoni, sausage, meatballs, mushrooms, onions, peppers, black olives.  $21.99
The quintessential NJ style pizza, thin crusted and fully loaded with toppings. Chewy and mouth filling.
Veggie Pizza:  Spinach, broccoli, onion, mushroom, tomato, black olive and eggplant.  $20.99
A classic veggie pie, filled with fresh, firm vegetables, it passed the veggie pizza "test", firm crust, not soggy!
Grandma's Pizza:  Square thin crust topped with margherita sauce, pecorino and mozzarella.  $19.99
A simple presentation with great flavor. A favorite at the table!
White Pizza:  With Spinach, homemade garlic cream ricotta spread topped with mozzarella.  $16.99
Full disclosure, I am not a fan of white pizza because it is usually too garlicky for me. This version was creamy and rich with a strong garlic flavor, but not overpowering.
Chicken Scarpariello:  (Sweet) sauteed with sausage, mushrooms, onions, vinegar peppers, potatoes, white wine sauce. Served with pasta and salad.  $18.99
A great mix of flavors, very satisfying, the chicken was moist and not the least bit over cooked.
Veal Cardinale:  Shitake mushrooms, prosciutto, spinach, mozzarella, marsala. Served with pasta and salad.  $23.99
A real pleaser…tender veal with an earthy rich flavor from the marsala and mushrooms.
Tortellini DiPasquale:  Prosciutto, roasted garlic, basil, fresh tomato, light cream sauce. Served with pasta and salad.  $15.99
Rich, sweet, and briny…one of my favorite flavor combinations.
Cioppino:  Cod, clams, shrimp, mussels and calamari simmered in a light garlicky red sauce. Served with pasta and salad.  $22.99
A classic presentation of fresh seafood in a tasty broth. Lightly seasoned with little spice.
Tiramisu:  $6.00
So creamy and light!
Nutella Sliders:  $6.50
OMG!! So clever, so delicious. 2 pieces of fried dough shaped like a hamburger bun, in between is nutella and raspberry. Heavenly!!!
Valentino offers an adequate selection of beer, wine, and soft drinks to accompany your meal. The wait staffs are super friendly, offering suggestions on items to try, plus, they are fast, and efficient. This is especially notable because this place is always busy!
Sarasota is blessed with a multitude of fine Italian restaurants. At times it may be difficult to differentiate one from the other. However, if you know and like New Jersey Italian, then you should try Valentino's Pizzeria & Trattoria.
SRQ Reviews, the restaurant guide you need to find the best dining in Sarasota, Florida.
Happy Hour Daily 4:00 – 6:30
4045 Clark RoadSarasota, FL 34233