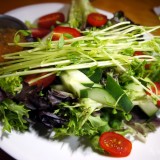 Veg Eatery
SRQ Reviews
on August 27, 2011
Vegetarian, Seafood Cuisine in Gulf Gate
With a small, non-descript presence on Gulf Gate Drive, one can easily miss Veg. That would be an unfortunate circumstance because Veg offers a creative, colorful, flavorful, and yes, healthy cuisine.  Primarily a small, family run restaurant, the décor at Veg is simple, casual, and comfy.
Opened a few years ago, Veg bills itself as a vegetarian and seafood eatery.  Even though the menu appeals to vegetarians, vegans and pescatarians, an adventuresome "meat-lover" will not be disappointed.  The menu selections are freshly prepared and updated daily.
For our meals we chose the following:
The Veg:  A veggie burger made with black beans, zucchini, carrots, corn, and string beans served with caramelized onions and cilantro aioli on rosemary ciabatta.  $8.99
Very tasty, the cilantro aioli added a layer of flavor.
Portabella Muffaletta:  Made with hummus, olive tapenade, grilled marinated portabella and creamy Gouda pressed.  $7.49
An interesting combination, nice texture with a slightly salty, creamy taste.
Sunshine Salad:  Spinach topped with goat cheese, seasonal fruit, red onions and pumpkin seeds.  Served with Ziporah's vinaigrette.  $8.99 add tempeh $3.49
Fresh, a lot of spinach, thought there should have been more fruit and tempeh.
Fish Tacos:  Dos tacos made with basa, served with shredded cabbage and salsa fresca on soft tortillas.  $6.99
A simple presentation, very fresh and flavorful.
Simply Delish Salad:  Seasonal lettuce, avocado, grape tomatoes, toasted almonds and mixed olives, served with Ziporah's vinaigrette.  $9.99
Fresh greens, a very sweet, waffle cut avocado, one of the best avocados I have ever had.
House Salad:  Seasonal lettuce, tomato, cucumber, sprouts, and red onions served with Ziporah's lemon Dijon vinaigrette on the side.  Small plate:$4.59
Fresh produce. The option of a small plate to accompany an entrée is a great option!
Maggies Famous Caesar Salad:  This dressing is legendary! Served dressed with shaved parmesan.  $8.99 $4.49
Dark green, crispy fresh Romaine. Mild dressing topped with plenty of shaved parm. Added ground black pepper added a pungent flavor.
Wild Maine Scallops:  Four large scallops served over wild brown rice, with vegetables.  MP
Sweet, fresh scallops over nutty, perfectly cooked brown rice. The vegetables were grilled beets and asparagus, healthy and yummy.
Mezze Plate:  Hummus, tabouli, baba ganoush, mixed olives and warm pita.  $9.99
Generous appetizer portion, fresh and flavorful.
Corvina:  A delicate white fish served pan-seared with garlic and served over brown and wild rice with seasonal veggies.  $19.99
Fresh, flaky, and delicate, well prepared.
Lemon Dill Salmon:  (Special) Wild caught salmon.  $20.99  (All entrees served with vegetables and a choice of brown rice and lentils or a ½ sweet potato.)
Large portion, nicely plated and presented. Nice, dark, rich, moist with a very subtle lemon Dill flavor. Brown rice and lentils added a nice nutty texture. Veggies added color and crunch.
Pan Seared Australian Barramundi:  Deliciously pan seared with garlic.  $19.99  (All entrees served with vegetables and a choice of brown rice and lentils or a ½ sweet potato.)
Really, really deliciously, healthily good! Generous portion. Colorful  presentation.
Raspberry Tartufo:  Delicious raspberry gelato dipped in dark chocolate.  $4.99
Fabulous! Although big enough to share, I really didn't want to share it, I wanted it all for myself! 

 
We found the service to be quick, friendly, efficient, and informative.  There is an adequate selection of soft drinks, beer, and wine to accompany your meal.
Even though the name and menu shout out Vegetarian and the food is indeed healthy, this is not a typical "health food" restaurant.  Rather, Veg is a casual family run restaurant serving creative, fresh made healthy food which tastes good.
SRQ Reviews, the restaurant guide you need to find the best dining in Sarasota, Florida.
Although the name is Veg, the seafood is really very good. Do not hesitate to order any of the seafood items. Also, we found the dinner menu to have a broader appeal.
2164 Gulf Gate DriveGulf Gate, FL 34231