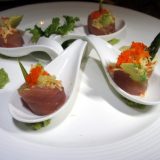 Wild Ginger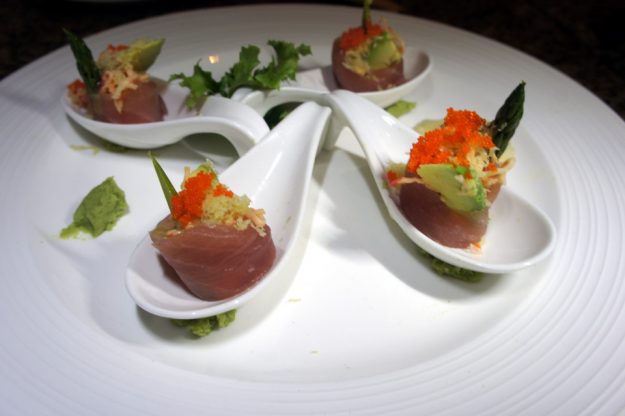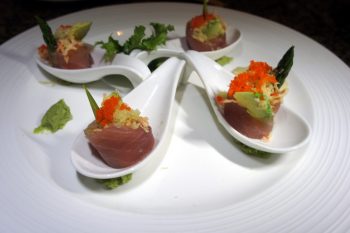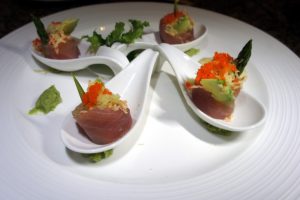 1537 Main Street Sarasota, FL 34236
941-954-8880
http://wildgingersushisarasota.com/#/
View Photo Gallery
SRQ Reviews
on November 7, 2016
Aficionados of Asian cuisine take note…there is a relatively new Pan Asian restaurant on Main Street. Wild Ginger, located at 1537 Main Street (between Lemon and Orange Ave) is showcasing a variety of Asian specialties with influence from Japan, Thailand, China, and Malaysia.
Asian inspired décor, dark colors, and subdued lighting, create a simple yet refined, casual dining space. There is a good sized sushi bar, which is a primary focal point, with small tables placed around the perimeter creating a small, comfortable dining space. As previously mentioned, the pan-Asian menu offers a wide range of Asian specialties, sushi, curries, seafood, beef, chicken, pork, and vegan options. Open for lunch and dinner, this is the perfect place to go with a group of people, order up a number of items to share and taste.
For our meals we chose the following:
Crystal Shrimp Dumplings:  With spicy peanut butter sauce.  $8
Silky, smooth, subtly spicy packets of flavor, offering a little after kick.
Tuna Baby Shots:  Crab mix, asparagus and avocado wrapped in tuna.  $9
A very creative and clever presentation. Great combination of flavor…a little spicy and a little sweet.
Cold Sesame Noodles:  With peanut sauce.  $6
A very nice starter, easily shared, and very fresh. The peanut sauce was balanced, subtle, and in no way overpowering.
Yellowtail Scallion Roll:  $7
Fresh and flavorful, need we say more? Actually this is one of our go to rolls.
Hamachi Kama:  One of the best parts of a fish, pan seared.  $12
A Wild Ginger specialty. Not often seen on menus. Rich, fatty, a little bit bony but mouth filling deliciousness. Pick up with your hands and enjoy the experience..
Silk Road Cumin Beef:  Sautéed with cumin, fresh mushroom and scallion. Served with miso soup or salad.  $17
A great complement of earthy flavors, tender, and very satisfying. A great comfort food dish.
Aromatic Malaysian Curry:  With chicken. Served with miso soup or salad and rice.  $16
Such an outstanding dish which can be prepared from mild to spicy. We chose a medium spice which provided heat! A perfect dish for cooler weather. Warm comfort food. Richly complex offering sweet heat.
Hot Lunch Special:  Chicken with sautéed mixed vegetables. Also includes soup or salad and soda.  $7.95
With many options from which to choose, making a decision is not easy. We chose the chicken. There was a good variety of crisp veggies and the right proportion of chicken to veggies in the dish. This is part of Wild Ginger's daily lunch specials which offer great value for lunchtime dining.
Bento Box:  Scallop teriyaki. Served with California roll, gyoza, edamame, and a choice of miso soup or salad.  $12
A classic Japanese presentation. A great sampling…Fresh, colorful, well prepared and expertly presented. We loved it!
Banana Tempura:  With strawberry ice cream, drizzled with chocolate.  $6
Ah…this is a little bit of heaven. Sweet and satisfying. A great finish!
Wild Ginger offers an adequate selection of beer, wine, soft drinks, and sake to accompany your meal. The wait staffs are very friendly, helpful, and offer advice on ordering the right amount of food with the right spice profile; very quick attentive service.
We are typically skeptical when restaurants offer a wide array of seemingly disparate options. We often feel the quality might suffer or the dishes lacking in authenticity. Neither was the case at Wild Ginger. Whether dining at the restaurant or planning on some take-out, consider Wild Ginger. You will not be disappointed.
SRQ Reviews, the restaurant guide you need to find the best dining in Sarasota, Florida.
1537 Main StreetSarasota, FL 34236