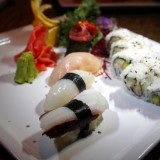 Yume Sushi
SRQ Reviews
on July 30, 2015
Yume Sushi is Yummy Sushi and More
Located at 1532 Main Street in the heart of downtown, Yume Sushi's new location stands out a lot more than their former location, which was across the street.  Now, upon entering the larger restaurant, one is immediately impressed with the size, and the options for seating.  The area for seating used most often, is in a fairly large dining area in a very "hip" blue lit bar room.  There are some tvs above the bar.  When we were there, there was a constant stream of diners.
The menu is extensive offering a wide selection of Japanese specialties, beef, chicken, seafood, and of course sushi.  Since sushi is in the name, we had to start there and then work our way around the menu.  For our meals we chose the following:
Tako:  Octopus $2.50 (per piece)
Firm and fresh, very nice texture.
Spicy Sake:  Spicy salmon $2.25 (per piece)
Fresh, sweet and spicy.
Ika:  Squid $1.95 (per piece)
Nice white color, chewy with a slight crunch.
Hamachi:  Yellowtail $2.75 (per piece)
Delicious, but I am partial, Hamachi is one of my faves.
Spicy Tuna Roll:  Tuna, cucumber, spicy mayonnaise $5.25 (6 pieces)
Not overly spicy, nice flavor.
Amazing Roll:  Tuna, salmon, white fish, yellowtail, asparagus, and scallion wrapped with soy paper –no rice $8.95 (6-8 pieces)
Very nice combination of flavors, colors and textures, a great combination.
Fresh Spring Rolls:  Special spring rolls stuffed with lettuce, tofu, carrots, avocado, bean sprouts and noodles wrapped with soft rice paper. (Served cold) $4.95
Crunchy, light and refreshing.
Wakame Salad:  Precious wakame seaweed with sesame dressing. $4.25
Fresh and delicious.
Yume Pizza:  Tempura fried rice, spicy mayo, crab stick and then you choose your toppings. We chose tuna and yellow tail. $10.95
Very creative, nice presentation with great taste.
Mango Salmon Sashimi:  Mango salsa, over salmon sashimi over Asian slaw. $8.95
Beautiful presentation, very refreshing, a definite summertime dish.
Vegetable Yuki Udon:  Thick Japanese noodles stir fried with vegetables in a garlic flavored soy sauce.  $11.95
Good portion. Sweet with crunchy veggies.
Bento Box:  All Bento Box dinners, choice of 2 (we chose vegetable tempura and chicken teriyaki), and are served with rice, soup and salad. $17.95
Nicely presented, flavorful, very filling.
Grilled Fish:  Freshly selected fish are grilled to perfection and served on top of steamed vegetables with your choice of ginger, teriyaki, garlic pepper, basil or combination sauce. All meals come with a side of steamed Japanese rice, soup or salad. $14.95 (We chose grilled shrimp with the combination sauce.)
A complete and tasty meal! Great value! Nice presentation!
The wait staffs were friendly, fast, efficient, and accommodating.  Yume offers a nice selection of Japanese beers and sakes as well as wine and soft drinks.
Sushi seems to be ubiquitous but innovative, creative combinations are hard to find. Yume's understated presence coupled with it innovative cuisine makes this place a stand-out from the crowd.
Finding sushi is easy toady.  Just about any restaurant serving Asian cuisine offers sushi, supermarkets have some, and even grab & go convenience stores are offering selections.  Finding creative, innovative sushi can be a bit more challenging; that is unless you know about Yume Sushi.
SRQ Reviews, the restaurant guide you need to find the best dining in Sarasota, Florida.
In addition to sushi, Yume offers a broad selection of Japanese cuisine. This extensive menu provides ample choice for the most experienced as well as the novice diner of Japanese cuisine.
1532 Main StreetSarasota, FL 34236