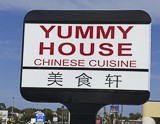 Yummy House
SRQ Reviews
on December 9, 2012
YUMMY HOUSE WILL BE RELOCATING TO ADDRESS ON THIS REVIEW
Yummy is in the House…
When a new restaurant opens in Sarasota, I will visit with the primary intent to establish a first impression.  Since all restaurants, regardless of prior experience, will have "start-up" issues such as staff training, menu tweaks, kitchen efficiency, item availability, etc., my general rule is to wait 30 to 60 days after the restaurant's opening before doing a review.  In the case of Yummy House, I am breaking my rule!
Yummy House Sarasota, which opened two weeks ago, is the third location for the Tampa-based restaurant group.  Located at 3232 North Tamiami Trail, in the former Wild Hog Barbecue location, Yummy House offers a simple, clean, bright and airy setting with a defined bar area and good-sized dining room.  I mention the bar area and the size of the dining room because the dining crowds have been large and without a reservation, one can be expected to wait.
With a somewhat minimalist décor, Yummy House has created the perfect backdrop for their food and its presentation.  The lunch menu offers a range of specials which include white rice and soft drink or tea or a dim sum menu, while the extensive dinner menu includes all requisite dishes.
For our meals we chose the following:
Lunch:
Spicy Yummy Chicken:  Crispy chicken stir-fried with asparagus and fresh mushrooms in sweet chili sauce.  $6.99
A very nice presentation of dark, rich, fragrant chicken.  Slightly crispy with a silky smooth sauce which was sweet but had a slight kick from the cayenne peppers … my mouth waters when thinking of those peppers!
Shrimp with Mixed Vegetables:  Jumbo shrimp stir-fried with mixed vegetables in wine sauce.  $6.99
A large assortment of Chinese vegetables, perfectly prepared and brightly colored, with just the right amount of snap.
Dinner:
Crispy Egg Rolls:  Six small-sized egg rolls.  $3.99,
A great appetizer for sharing … the egg rolls were crispy, mild flavors, and just the right size for tasting.
Hot and Sour Seafood Soup:  Family-sized portion.  $9.50
A richly-colored broth with layers of flavor.  Specks of red pepper throughout added just the right amount of heat to complement the sweet seafood base.  Silky texture.  Easily portioned for four people.
Hong Kong Style Wonton Soup: Family-sized portion. $9.50
A well prepared, flavorful broth with hints of sesame, plenty of wontons and baby bok choy. One of the better wonton soups I have tasted.
House Chicken Clay Pot:  Chicken, mushroom, sausage, garlic.  $9.95
Served in a clay pot, a deep, dark, rich color provides an impressive presentation, steaming hot, fragrant scents of smokiness and sweetness with tender pieces of chicken, sausage, garlic, and mushrooms.
Spicy Kung Po Shrimp:  Shrimp and vegetables.  $9.95
Tender, succulent shrimp served in a slightly spicy sauce with fresh veggies and crunchy peanuts.
Spicy Hunan Beef:  Beef and vegetables.  $9.95
Tender, melt-in-your-mouth strips of beef and crunchy green veggies with a rich, brown, slightly sweet sauce.
Spicy Szechuan Chicken:  Chicken and vegetables.  $8.95
Tender strips of chicken, mushrooms, and cayenne peppers add a nice level of heat to this dish.
Yummy House offers an adequate selection of beer, wine and soft drinks to accompany your meals.  We found the wait staff to be very friendly with multiple staff assisting one another in the process.  As previously mentioned, all new restaurants go through start-up issues and Yummy House is no exception.  However, part of the service issues are created because the initial demand is exceeding the restaurant's expectations.  For instance, we ordered duck only to find it to be sold out.  The same was true with Tsingtao, the Chinese beer.  At times the staff was slow, but it should be noted the restaurant is running at full capacity with little down time. For a restaurant with a one-week tenure, the glitches were amazingly few!
I chose to break my time rule about reviewing new restaurants for a reason.  Despite the minor service issues, which I believe will be corrected in time, the food is flavorful, authentic and long overdue for Sarasota.  A number of people have commented on their plans to wait for the novelty and initial crowds to diminish before venturing out to Yummy House.  My response: That might be a very long wait!
SRQ Reviews, the restaurant guide you need to find the best dining in Sarasota, Florida.
The lines are always long at Yummy House. However, there are a number of larger tables (seating for 6-8 people). Arrive with a large party and get seated more quickly!
1737 S. Tamiami TrailSarasota, Florida