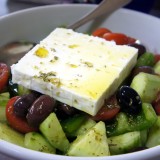 Blu Kouzina
SRQ Reviews
on November 11, 2015
Blu Kouzina…A Fresh Taste on St. Armands Circle
With all the freshness of a Mediterranean breeze, Blu Kouzina has emerged as a new destination dining spot on St Armands Circle. The second family restaurant (the first one located in Singapore) brings its authentic Greek cuisine to Sarasota. Tastefully decorated in Aegean hues of blue and white, the restaurant projects a casually elegant setting with an unmistakable Greek motif.
With an emphasis upon freshness, all of Blu Kouzina's food ingredients are sourced locally, organic when available, and delivered daily. In fact, the restaurant does not have a freezer on premise. Fresh. fresh, fresh! The menus is broad; offering a range of appetizers, salads, meats, fish, and of course Greek specialties. For our meals we chose the following:
Horiatiki:  Greek Salata, tomatoes, cucumber, onion, olives, feta cheese and green pepper, topped with extra virgin olive oil and organic vinegar.  $11.00
This is a classic Greek salad, meaning no lettuce! Extremely fresh ingredients, crisp and colorful, well seasoned and dressed. Incredible feta! One of the best Greek Salads in Sarasota!
Blu Salata:  Rocket leaves mixed with capers, anchovies, pine nuts and topped with Kefalotiri cheese and Blu sauce.  $12.00
A very fresh salad with big briny flavor, refreshingly different.
Maroulosalata:  Thinly sliced lettuce tossed with dill, spring onion, extra virgin olive oil and lemon. $8.00
A very simple light flavored salad, crunchy and refreshing. A taste of summer.
Saganaki with Figs:  Kefalotiri Psito with fig sauce.  $10.00
This was a wow dish for me! Served very hot, with a definite sweetness from the figs and a salty flavor from the cheese. A classic combination.
Spanakopita:  Phyllo pastry filled with spinach, feta cheese and herbs.  $8.00
Such a classic Greek appetizer, 2 "triangles" of flaky, crisp, nicely filled phyllo, warm and creamy. A wonderful appetizer to share and experience Greek cuisine.
Kotopoulo Yiro:  Grilled kotopoulo, shredded and rolled in a pita with tzatziki and red pepper.  $11.50
A simple dish to share. Pita was fresh, could have used more tzatziki in the roll up. Oregano on the crisp fries a good touch.
Kalamari Shara:  Grilled squid with lemon and extra virgin olive oil.  $12.00
The Greeks have perfected this simple dish, a simple presentation with simply delicious flavors of fragrant olive oil and tangy lemon.Very well prepared. Soft, tender, with just the right amount of crunch.
Paidakia Stin Shara:  4 grilled lamb chops served with vegetables of the day.  $24.00
A slight disappointment because our expectations for Greek lamb is so high. The lamb chops were tender, however, they were small and lacked consistent flavor.
Kotopoulo (Chicken) Me Patates:  Full baby roast kotopoulo in the oven with potatoes, lemon, extra virgin oil and oregano.  $17.00
The classic Greek preparation of roasted chicken. Simple, tender, full of oven roasted goodness.
Mousaka:  Oven baked eggplant with potatoes, mince meat and bechamel sauce.  $16
Deliciously rich. Full of great flavors. Definitely a dish for sharing.
Greek Sea Bass:  400g Grilled.  $31.00
You can have the fish whole or the chef will filet it. Fresh, flaky and moist, slightly seasoned.
Baklava:  $6
Rich, dense and sweet, a perfect combination for me. You get 3 pieces, great for after dinner sharing.
Galakloboureko:  Phyllo pastry cups filled with semolina spiced pudding and orange zest.  $7
This is another wow dish for me. Simple presentation. One word description: "wonderful"!
Blue Kouzina offers soft drinks, beer, and wine to accompany your meals. Although all of the wines on the list are Greek and perhaps a bit unfamiliar, the staff are very helpful and will assist you in choosing the right bottle for your and your guests. We found the wait staffs to be very friendly, attentive, and quite helpful in describing items on the menu.
Blu Kouzina, the freshest place for sharing food and conversation with friends on the circle.
SRQ Reviews, the restaurant guide you need to find the best dining in Sarasota, Florida.
25 N Blvd Of PresidentsSarasota, FL 34236