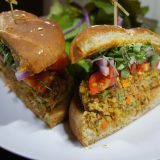 Lila
SRQ Reviews
on January 10, 2017
Urban chic, casually cool, healthfully artistic…
The chef/owners of Pomona Bistro are performing their culinary magic once again by offering an innovative and exciting culinary adventure on Main Street, in downtown Sarasota.. Located in a recently renovated former retail storefront, Lila offers a fresh take on healthy, casually styled dining. An urban chic setting with high, open industrial exposed ceilings, open kitchen, well-lit plating/staging area, crown molding, and a beautifully restored terrazzo floor; the ambiance is casual and hip.
The latest creation from the culinary team of Ryan Boeve and Arthur Lopes focus on fresh, locally sourced, organic ingredients to comprise the ever evolving seasonal lunch and dinner menus. Even though the restaurant is vegan forward, vegetarian centric, there are non-vegan options on the menu. In other words, the restaurant offers dining options which accommodate veggie and non-veggie preferences.
For our meals we chose the following:
Trio of Mediterranean Spreads:  Charred eggplant, haydari, muhammara, fresh pita.  $11
The haydari was creamy and cool with a tangy refreshing finish. The muhammara presented roasted peppers which were bright with a subtle but definite spiciness. The eggplant was rich, dark and earthy presenting a smokiness and slightly spicy flavor profile. There were a nice range of flavors in this dish.
Merguez Sausage:  With mustard, onions.  $7
A very simple presentation of classic tastes and style.
Roasted Sweet Potato Wedges:  Harissa spices, cashew mayo.  $10
A great appetizer to share. Lots of flavor with a little kick.
Grilled Avocado:  Farro bowl, feta cheese, yogurt sauce.  $14
Was not sure what to expect from this dish, it was simple in taste but very satisfying, warm and filling.
Grilled Romaine:  With faro, lemon and herbs.  $9
This dish presented a great combination of colors, textures, and flavors; charred/grilled, sweet and tangy; all on one plate. Very nice.
Greek Salad:  Tomatoes, cucumbers, red onion, feta oregano, olive oil.  $13
This was a surprisingly good example of a true Greek salad. Fresh and refreshing, salty, colorful, chock full of fresh cukes and tomatoes.
Winter Bowl:  Roasted root vegetables, potatoes, kale, falafel, pistachios, tahini-lemon sauce.  $13
This is the perfect presentation for a cool winter day. Warm, hearty, and full of earthy flavors, with a fresh sauce.
Smoked Poached Farm Egg:  In olive oil, sea salt with brioche toast.  $5 (With Bacon add $4.)
Although it might sound odd, this is a definite must try! Fun! Rich, indulgent. We added the bacon…perfect!
Wild Coho Salmon:  Wild mushrooms, garlic, olive oil, lemon.  $15
A simple yet beautiful representation…buttery like taste, earthy-ness of the mushrooms, pooling of the olive oil all combined to provide a rich mouth feel. Very satisfying.
Buddha Bowl:  Warm rice, potatoes, kale, curried tofu, turnips, toasted seeds.  $14
Everything was well balanced…flavors and textures. The tofu was off-the charts delicious…soft, a little creamy, yet firm. Highly recommended.
Roasted Beets:  Bleu d'auvergne cheese, arugula, almonds, orange-sherry vinaigrette.  $14
Such a great combination of peppery, sweet, creamy and crunchy…the beets were cooked perfectly; "al dente" but still quite soft. 
Veggie Burger:  Quinoa -sweet potato, whole grain bun, avocado, red onion, side mixed salad.  $13
Delicious! It is so good…the texture from the quinoa and sweetness from the sweet potato make for a winning combo…I ordered the burger on 2 seperate visits; both times I had different type of buns and different greens for the side salad. Proof that Lila changes the menu/ingredients to have the best freshest ingredients!
Sarasota Beef Company Beef Tenderloin:  With onions, mushrooms, bacon, potatoes. (4.5 oz sliced)  $17
A beautiful presentation, melt in your mouth beef, the add-ons gave it pops of different tastes and textures. A perfectly healthy sized portion.
Raw Chocolate Tart:  With fresh berries.  $8
Deep intensity, surprisingly unsweet, dense, with a hint of coconut. If there is a healthy decadence, this is it! What's not to love!!
Lila offers an adequate selection of craft beers, wine, and healthy soft drinks to accompany your meals. We found the wait staffs to be very friendly, enthusiastic, helpful in providing guidance and direction, and efficient.
So why not break out from your usual restaurant routine? Try something new, exciting, and healthy? Then Lila is the place for you. But beware, it could become your new restaurant routine!
SRQ Reviews, the restaurant guide you need to find the best dining in Sarasota, Florida.
1576 Main Street Sarasota, Florida 34236