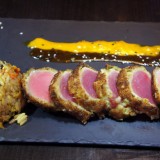 The Ringling Grillroom (formerly The Muse)
SRQ Reviews
on February 20, 2016
An Amusing Dining Experience named Muse… (NEW OWNERS, NEW MENU)
With a new partnership between The Ringling Museum of Art and the Tableseide Restaurant Group (Libby's, Louies Modern, The Francis) Muse, a new Sarasota restaurant, opened in the summer of 2015. Occupying the former dining space of Treviso, Muse offers an updated, contemporary décor with light colors, high ceilings, outdoor "al fresco" dining, and a splendid view of the museum grounds.
The menu is eclectic with an interesting combination of flavors and ingredients. With an emphasis on fresh and locally sourced produce, the seasonal menu offers a range of soups, salads, sandwiches and special entrees. There are a number of vegetarian options as well.  For our meals we chose the following:
Dinner:
Muse Super Salad:  Baby kale/quino/pea shoots/edamame vinaigrette.  $7.00
An abundant combination of greens with a little crunch. Surprisingly filling.
Honoring Caesar:  Romaine/treviso/burger bun croutes/reggiano/Tuscan white anchovy.  $9.00
This was a very fresh and crispy salad…the white anchovies added a very complementary subtle seafood
essence without the briny flavor.
Vong's Squash Toast:  Sea salt lavish crisps/maple onion confit/mascarpone.$7.00
Such a surprisingly satisfying starter…sweet, deep earthy flavor with a perfect crunch from the cracker. A definite crowd favorite with two different kinds of squash golden and butternut providing the winning combination.
Muse Crispy Calamari:  Giddens hot tomato/pepperoncini aioli.  $10.00
Perfectly prepared, light and crisp…the ideal balance for calamari…tender on the inside, crispy on the outside. Served with 2 distinctly flavored dipping sauces.
Mustard Crusted Tuna:  Wok fried jasmine rice/manchurian cauliflower/ginger sweet and sour sauce. $23.00
A very Interesting preparation. Fully flavorful on its own with added dimensions/layers of flavor from the ponzu wasabi and mustard sauce. Wok fried rice with shredded carrots and red pepper and a hint of ginger worked just fine with the Asian inspired preparation.
Commander's Palace:  BBQ Florida shrimp/blue crab beignets/cheese grits/smothered greens/worcestershire-lemon butter.  $24.00
This is a full flavored rich dish. The shrimp were amazingly moist and full of flavor…smoky earthy, cheesy, buttery. Delicious.
Warm Apple Galette:  Cinnamon anglaise.  $8.00
The smell is incredible! Mouth-wateringly delicious, flaky, and slightly sweet with vanilla and subtle hints of cinnamon.
Lunch:
Goldfish Pretzel Crusted Crabcake:  Honey mustard/remoulade/house tartar.  $15.00
An extremely creative combination of flavors, textures, and colors. Visually appealing with pronounced crab flavor. Even our friends from Maryland will love this!
House Deli Sampler:  Tuna salad/smoked trout/ potato skin crisps/red quinoa super green salad/ lavash crackers.  $15.00
What fun! Such a great collection of tastes all on one plate. My favorite was the chicken salad (with grapes) but all was tasty. Loved using the potato skins like a cracker.
Turkey Melt B.L.T.:  Bacon/romaine / tomato/ lemon mayo/ brioche.  $14.00
Just an outstanding sandwich! Lemon mayo very fresh, tangy flavor, which was contrasted against the smoky bacon, and the buttery toasted bread. Well proportioned. Nothing over powering. A absolute winner in my book!

In addition to the creative cuisine, Muse offers an assortment of specialty cocktails, an adequate selection of wines, and a fine assortment of craft beers. The service staffs were very friendly, efficient, and helpful in guiding selections and explaining various menu items.
With no admission charge to the museum required, Muse provides a classy, contemporary, uniquely Sarasota dining experience. Open for lunch and dinner, it is the perfectly uncommon spot for a quiet business lunch, conversation with friends over cocktails, or a pre-theater dinner. Go ahead, have an amusing time at Muse.
SRQ Reviews, the restaurant guide you need to find the best dining in Sarasota, Florida.
5401 Bay Shore RoadSarasota, FL 34243