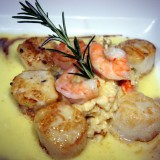 The Rosemary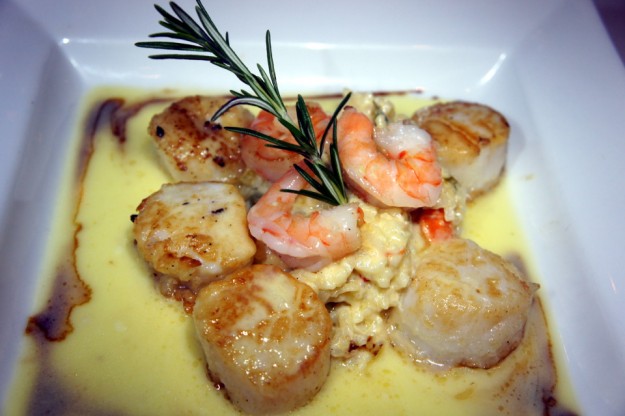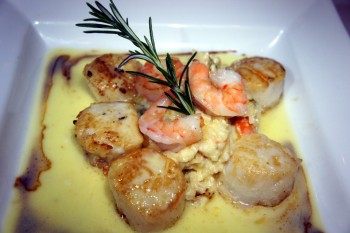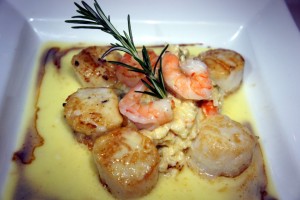 411 N Orange Avenue Sarasota, FL 34234
941-955-7600
http://www.therosemarysarasota.com
View Photo Gallery
SRQ Reviews
on April 20, 2016
A Neighborhood Bistro in the Making…
Less than a year old, The Rosemary, a new Sarasota restaurant located on the corner of 4th Street and North Orange Avenue, is already developing a following amongst Sarasota diners. Redesigning the former Savory Street Café space, The Rosemary has created an American styled casual bistro. With a perimeter of glass, high ceilings, a large open dining room, earth toned interior colors, and very comfortable chairs, The Rosemary has created a warm, inviting dining space.
Breakfast:
Huevos Rancheros:  Tostada, refried beans, pico de gallo, feta cheese.  $9.95
Crispy tortillas, fresh eggs, just the right amount of feta, a nice little twist on the traditional, a creamy, silky mouth feel from the beans.
Veggie Omelet:  Asparagus, Bermuda red onion, roasted red pepper, sautéed portobello mushrooms, pepper jack.  $9.95
This is a hearty omelet, loaded with big pieces of veggies ,the eggs, moist and fluffy, perfectly prepared.
French Toast:  Powdered sugar, cinnamon, fresh fruit.  $8.95
Another hearty dish, large, thick pieces of bread, very fluffy, a classic presentation, yum.
Lunch:
Baked Free Range Roasted Diced Chicken: Over greens, pears, grape tomatoes, and toasted almonds.  $13.95
A generously sized portion of fresh and colorful salad ingredients, the chicken was moist and tender, the pears a little too hard.
Brisket Tacos:  House-smoked brisket, Bleu cheese, cole slaw, George's interesting sauce, pepper jack. $10.95
Smoky, creamy, simple, full of flavor, accompanied by a sweet and tangy bbq sauce and a "special" sauce that is also good for dipping with the fries.
Dinner:
House Salad:  Chopped with iceberg lettuce, tomato, cucumber, broccoli, Bermuda red onion, carrots, celery, radish, grated parmesan cheese.  $6.00/$9.00
Even though the salad was fresh and tasty, the salad presented did not match the menu description. Rather than the chopped salad we expected, we received mixed field greens, tomato, cucumber and carrots…no chopped, iceberg lettuce, broccoli, celery, radish or grated parmesan cheese. Since this was early in the restaurant's inception, we chalk this up to start-up issues.
Tuna Tartar:  Avocado, cilantro, onions, celery, roasted sweet red pepper.  $11.00
An exquisite presentation of chopped and stacked tuna with celery and assorted flavor enhanced ingredients… multi-textures – creamy, chunky, silky and crunchy…a home run!
Sautéed Asparagus:  Smoked bacon, walnuts, goat cheese.  $9.00
Another winner! The asparagus was warm and served over greens. Crunchy from walnuts, crisp from bacon, the asparagus had the perfect snap and it was all tied together with creamy smooth goat cheese.
Lockhart Platter:  Texas smoked sausage, brisket burnt-ends, artisan cheese, mustard.  $12.00
And yet another winner! The brisket was very thinly sliced, firm, juicy, lean, tender, with a light smoky flavor throughout…so tender it feels like it melts on your tongue. Salty/vinegary bbq sauce, not needed, but very good.
Pan-Seared Sea Scallops:  Shrimp risotto, lemon caper butter sauce.  $23.00
These scallops were very sweet and tender, the shrimp moist, and the risotto creamy and filled with chunks of veggies…an excellent combination.
Blackened Red Snapper Filet:  Vegetable Medley, roasted poblano cream sauce.  $23.00
Very fresh veggies, chopped, crunchy, colorful and firm. Mild cream sauce compliments the firm snapper. Silky, subtle, nothing overly seasoned. A very satisfying dish.
Grouper Special:  Pan-seared, pine nut encrusted with vegetable risotto.  $30.00
The risotto was fantastic…colorful and full of flavor. The fish, a healthy alternative to fried fish –the pine nuts made it crunchy on the outside, yet moist inside. Well prepared.
The Rosemary offers an adequate selection of soft drinks. However, we found the selection of beer and wine to be quite limited. Recognizing the limitations of the wine list, the restaurant will allow you to bring your own wine for a modest corkage charge. If you are a serious wine drinker, then bringing your own is a must.
The wait staffs were very friendly, fast, accommodating, and efficient. They were unobtrusive yet available when needed; delightful disposition.
The Rosemary district has promised and continues to be an up and coming neighborhood in the north end of town. And now with its namesake and casual neighborhood bistro ambiance, The Rosemary restaurant is poised to do the same.
SRQ Reviews, the restaurant guide you need to find the best dining in Sarasota, Florida.
There is a side/back room, it seats 8 people…wonderful space for a semi-private party. Also, make sure to try the brisket!
411 N Orange AvenueSarasota, FL 34234