Summer Sipping and Seasonal Sampling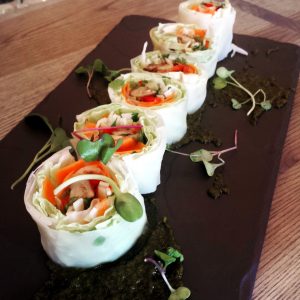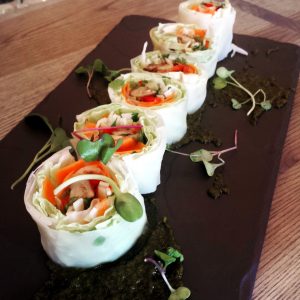 One of the more enjoyable aspects of summer is the relaxed, casual, easy going day to day lifestyle which manifests after Memorial Day. Is this aura a result of longer days, the "quiet season" when Sarasota becomes more approachable, or the warmer, more humid weather which is an integral part of summer? Whatever the case, we all seem to slow down and truly savor the moments.
Why not do the same with your cuisine? Summertime is the perfect time for culinary and cocktail creativity showcasing fresh local ingredients . Last week I had the opportunity to sample and sip some of the seasonal specials now offered at Jack Dusty. Here is what we tried:
Creative Cocktails:
The Traveler: Fords gin, lemon juice, local honey syrup, cardamom pod, pink peppercorn, basil leaf, club soda.
Fresh, light, aromatic, and thirst quenching, a great summer sipping cocktail.
The Worker: Applejack brandy, chamomile infused dulin blanc, local honey & bee pollen, cava topper.
A bit sweet, but not overly so, refreshing and effervescent.
The Introverted Extrovert: Laguvilin Scotch whiskey, Bushmills Irish whiskey, green chartreuse, orgreat, freshly squeezed lime juice, pineapple juice, cayenne salt rim.
This is a full-fledged serious drink. Full of flavor and a bit boozy, but well prepared.
The Lion: Lemongrass & lime zest infused Ford's gin, coco lopez, pineapple cilantro syrup, fresh-squeezed oj, grated nutmeg, orchid, pineapple leaf garnish.
Certainly a summer time beach/poolside cocktail, easy drinking with a great flavor palette.
The Ernest: Papa's Pilar rum, rhubarb simple syrup, muddled strawberry, J Dubs Poolside Kolsch topper.
Although it was hard to pick just one favorite cocktail, this was my choice…simple, very refreshing, tasted like summer to me!
Seasonal Menu Items:
Summer Rice Roll: Vermicelli noodle, miso braised mushroom, local leaf, red bell pepper, carrot, peanut, cilantro puree.
A super refreshing summer roll, cool and crisp.
Kale & Butternut Squash Salad: Sunshine blue, beluga lentil, lavender, radish, bacon-balsamic vinaigrette.
Based upon the item's description, I did not think summer. However after tasting it definitely works as a summer dish. Light and flavorful, fresh and crisp.
Seared Ahi Tuna: Chilled bean salad, white truffle olive oil, basil leaf, cauliflower puree.
Delicious, definitely summer, a great mouth feel created from the beans and tuna…a classic combination.
Organic Chicken Breast: Raw corn & roasted bell pepper relish, spinach, warm saffron potato salad, local honey.
This dish screamed summer; fresh, full of flavor and texture, great crispness from the potato
1855 Skirt Steak: Chimichurri, blistered grape tomato, arugula, fingerling potato.
A classic summer dish, simple steak and salad rendition, tender, and full of flavors and colors. A winner!
The perfect combination
Located inside the Ritz Carlton Sarasota, Jack Dusty is the perfect place to chill and enjoy the fruits of summer. The food forward coastal cuisine, the light, airy, casual yet elegant décor, and waterfront setting all combine to set the stage. And now the creative cocktails combined with the seasonal menu make the cock-tailing and dining experiences at Jack Dusty memorable and desirously repeatable.
So why not savor summer in style at Jack Dusty?
Jack Dusty
1111 Ritz Carlton Dr,
Sarasota, Florida 34236
(941) 309-2266
Website: Click here or the Jack Dusty website
Facebook Page: Click here for the Jack Dusty Facebook page