A Royal Tea Service at the Powel Crosley Estate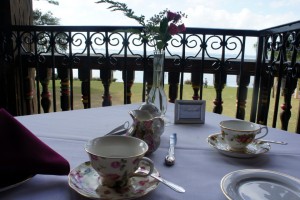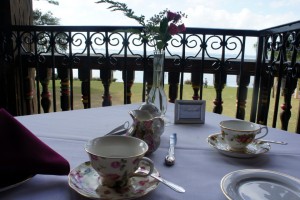 With a talent for combining fine cuisine and historical events, Chef Larry Barrett of Simply Gourmet, is offering a Royal Tea Service at the Powel Crosley Estate. Starting at 2:00 pm, the Tuesday and Wednesday afternoon tea services are offered on February 2, 3, 9, 10, 16, 17, 23, and 24.
Steeped in tradition, the menu features savory and sweet delicacies, such as Cassis Marinated Strawberry Parfait, Vanilla Cream Fruit Tartlets, Currant Scones/Devonshire Cream, Double Chocolate Triangles, Turkey/Sundried Tomato Pinwheels, and Royal Tea Sandwich Medley; and of course, properly brewed cups of flavorful English tea.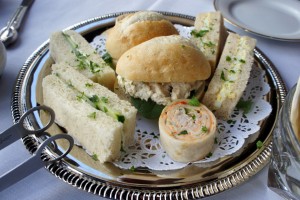 On Tuesday February 2nd, we were invited by Chef Barrett to sample his personalized version of the Royal Tea Service. Considered by many as the finest mansion on Sarasota Bay, "Seagate," the name given by Powel Crosley, is the perfect setting for an afternoon in Sarasota. Large, stately, warm and inviting, with beautiful views of Sarasota Bay, our stage was set.
Escorted to the upstairs veranda overlooking the grand back lawn and the water, we took our seats at the elegantly set table. Tea was poured, plates presented, and the conversation continued. What better way to spend a warm, sunny, February afternoon?
We sipped on well prepared English tea accompanied by a savory plate of traditional finger sandwiches of cucumber, egg salad, chicken salad, and turkey roulades. Relaxing and comfortably paced, the tea service culminated with a sweets plate which included almond macaron, fruit tarte with pastry cream, double chocolate triangles, scones with currant jam and rich Devonshire cream. One word on the food, delicious!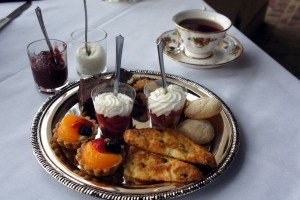 Experiential dining always provides punctuation in time and memory. With the perfect backdrop for an afternoon tea, this venue, combined with Chef Barrett's culinary talents and historical perspective, provide a uniquely Sarasota experience. Why not savor the experience?
For more information, call Larry Barrett at 941-929-0066 or visit www.SimplyGourmetCaterers.com.