H2O's Inaugural Wine Dinner a Success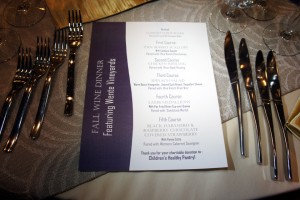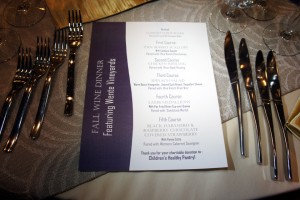 Last night, the H2O Bistro at the Hotel Indigo held its first quarterly wine dinner with the Children's Healthy Pantry the charitable beneficiary.
The casually elegant space hosted approximately 30 attendees and featured the handcrafted wines of Wente Vineyards. The 5 course/5 wine pairing showcased the breadth of the vineyards portfolio and the culinary skills of H2O chef Jozi Korotkov and his team.
The menu and pairings were as follows:
Arrival
Gourmet Cheese Board
Paired with: Louis Mel Sauvignon Blanc
A beautiful presentation.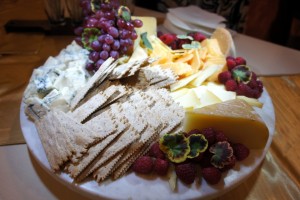 First Course
Pan Seared Scallop with Calabaza Squash
Paired with: Riva Ranch Chardonnay
An excellent food and wine pairing. Great texture in the food and fruity chardonnay.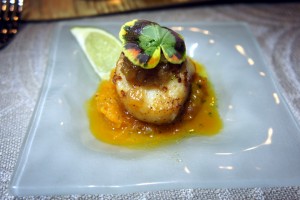 Second Course
Chicken Riesling
Paired with: River Bank Riesling
A classically styled Riesling.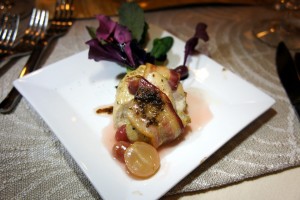 Third Course
Spinach Salad with warm bacon vinaigrette, seared duck breast and Roquefort cheese
Paired with: Riva Ranch Pinot Noir
This was a delightfully true Pinot with balance and taste.
Fourth Course
Lamb Medallions with pan fried onion cup over quinoa
Paired with: Sandstone Merlot
A surprisingly big Merlot with full mouth feel.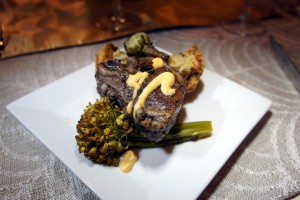 Fifth Course
Black Habanero & Raspberry Chocolate Covered Strawberry with Panna Cotta
Paired with Wetmore Cabernet Sauvignon
A flavorful, round Cab.
The staff did an excellent job making sure the food and wines were paired correctly and served in a timely manner.