Inaugural Wine Dinner at H2O Bistro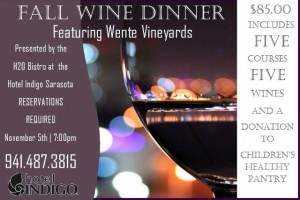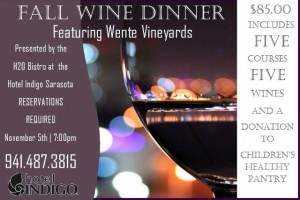 Tonight we have the pleasure of participating in the Inaugural Wine Dinner presented by H2O Bistro at the Hotel Indigo Sarasota. The five course, 5 wine dinner will feature the wines of Wente Vineyards paired with the innovative culinary creations from chef Jozi Korotkov and the H2O Bistro team.
Perhaps more importantly though is the charitable component of this event. A portion of the proceeds will donated to the Children's Healthy Pantry. CHP is a 100% local charity that provides nutritious snacks and water to students at nine Title 1 schools in Sarasota. If you are so inclined, you can donate directly to CHP online.
We will be posting updates from the event this evening on our Instagram account.