One of Sarasota's Premier Food and Wine Event's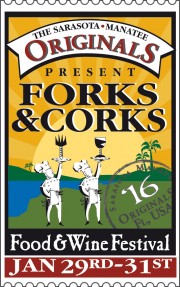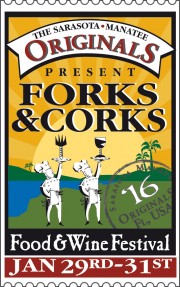 Forks & Corks 2016 Festival will commence this Friday, January 29, and culminate with the Grand Tasting on Sunday afternoon, January 31. This year's event will provide a number of venues for participants to sample a wide variety of world-class wines from international and domestic wineries accompanied by food from over 50 Sarasota-Manatee Originals restaurants; the perfect palate pleasing culinary combination.

Even though the Grand Tasting Event is the ultimate tasting event of the Festival, on Friday and Saturday evenings there are a number of wine dinners hosted in area restaurants.  Although a number of the wine maker dinners are sold-out, there are still select seats available for some of the dinners. So click on the wine maker dinner link, make a choice, and act quickly.

Besides the wonderful wine and food pairings offered throughout the Festival, Saturday January 30th offers an educational program named Forks & Corks University. Offering both a half day and full day program, this year's topics are: "Italian Whites and Reds" for the half day program; and "Global Comparisons" in the morning and "Cab to the Future" in the afternoon. For more detailed topical content, click on the Forks & Corks University link.

Since this is one of my favorite Sarasota Culinary Events of the year, I encourage you to give it a try. There are still some options to participate in the 2016 Festival. Alternatively, mark your calendar for this weekend next year and join the 2017 Festival. Information on the 2017 events will become available in November, 2016.